This ain't your daddy's Metroid, but that's not a bad thing.
Metroid Prime Federation Force has not had an easy road to the market. From the moment it was revealed back at E3 2015, fan opinion struck back hard against this Next Level Games-developed project. Despite knowing virtually nothing about it, the fact that it didn't star Samus and took on a different style from other games in the series made it an instant outlier. But now that the finished product is out in the wild we can finally measure this game on nothing more than its true, honest quality.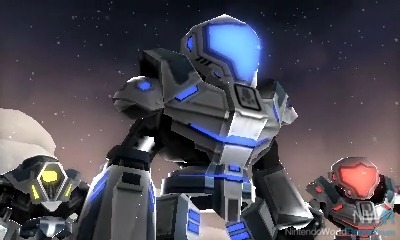 Federation Force is set directly after the events of Metroid Prime 3: Corruption and deals with the aftermath of planet Phaaze's complete obliteration. Suffering from the loss of Phazon as a renewable energy source, the Galactic Federation seeks out a new advantage over the omnipresent Space Pirates. Naturally, giant robots were the first things to come to mind. These prototype mechs are piloted by an elite group known as the Federation Force. With the Space Pirate threat still very prevalent across the galaxy, the Federation Force is dispatched to the Bermuda System to reclaim a Federation mining station. As you might suspect, the situation quickly takes a turn.
Your first mission takes place on the snow-covered world of Excelcion. After finishing it, you'll unlock levels on Bion, a desert world littered with the ruins of a long dead race, and Talvania, an industrial world guarded by ancient security systems. Interestingly, you often unlock multiple missions at once as you progress. This adds a novel, non-linear nature to the game that is especially fun online, where even players who are still early in the game will have multiple levels to choose from. The levels themselves all feel unique and different – even those on the same planet. Some missions focus on exploring large environments to activate an uplink or find an item to return to your ship. Others rely heavily on solving puzzles to navigate an expansive structure, and some task you with fighting off hordes of enemies under varying circumstances. You may even occasionally find yourself separated from your mech, in which case you'll have to sneak your way through enemy installations. The incredible variety of missions that the player is presented in Federation Force is something that caught me completely by surprise. Each one felt fresh, and new.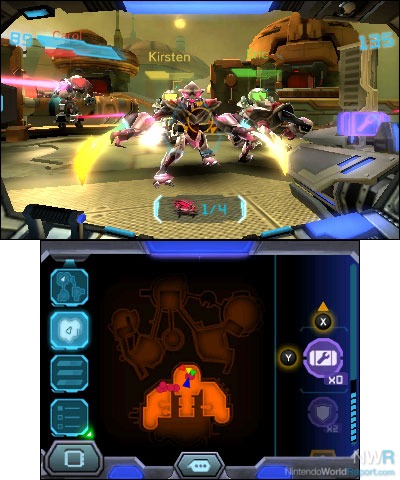 Before the start of a mission you're given an opportunity to customize your mech in multiple ways. To start, you have the opportunity to equip mods, which alter your mech's performance. One of my favorite mods enabled a 30% chance to not take damage from an attack. Another boosted the power of my charge beam by 20%. You'll begin the game with a couple basic starter mods but the rest are found through classic Metroid-style exploration. Off the main path you'll find hidden rooms, locked doors, and secret areas that contain random mods. These areas can often only be accessed via the use of specific weapons, which leads to the next stage of customization. After setting up your mech, your team is able to choose what gear you'll take with you on a mission. Rather than Samus finding conveniently placed upgrades in ancient ruins, you'll instead pick your arsenal from the Federation armory. All your favorite Metroid weapons are here: ice, shock, plasma, missiles, and super missiles, along with plenty of new items exclusive to Federation Force. Beyond weapons there are also defensive items such as shields, decoys, proximity mines, and energy tanks that can be fired at allies to restore their health. You only have a limited capacity on your mech however, so it's imperative that you implement strategy when loading up.
Federation Force can be played either single-player, locally, or online. Prior to play I suspected that, much like The Legend of Zelda: Tri Force Heroes, the online mode would be by far the best way to play the game. I was delighted however, to find that great effort had been put into creating a robust and enjoyable single-player experience as well. When played solo, the game offers up a variety of changes to help balance the experience. First, you'll have access to a special mod that gives you some extra fire power and reduces the damage you take. You'll also have the option of bringing along up to three drones. These drones hover just above your head and help you fight enemies. It's crucial to note that these handicaps are purely optional and can be removed to add more challenge to the game. Even with the drones enabled the game still presents a significant challenge. I'd generally recommend making use of them, at least for your first time through the game. When played online with less than four players, these drones are once again optionally available in an appropriate quantity to make up for missing players. It is worth noting however that while the game feels excellently balanced for one or four players, playing it with only two is quite challenging. You won't have the firepower-enhancing mod present in single-player, and those drones, while helpful, can't bring anything besides a standard power beam into the field with them. This increase in difficulty also brings into play a substantial complaint: there are absolutely no checkpoints. While early levels are often quite short and not too difficult, later levels can take upwards of 20 minutes. Dying on the final boss and being sent all the way back to the lobby to try again from the beginning can be extremely frustrating. There isn't a simple retry button either. You'll have to choose the mission and configure your loadout all over again.This is not to say the game isn't enjoyable with this setup, but it requires much more planning when setting up mods and choosing a specific role for each player. There is no voice chat for communicating these strategies, only a selection of pre-loaded phrases that can be hotkeyed to the directional pad or selected manually. On the equipment screen, however, you're able to see everything each player is taking with them. From there it's relatively easy to see weak points in the team's loadout and fill them as needed.
On the bright side, should you meet with an untimely demise, you won't feel like it occurred unjustly. The game controls fantastically, assuming you use the default controls. New 3DS owners will have the option of incorporating the C-stick to play in a more traditional twin-stick style. That pathetic nub, though, just isn't up to the challenge of a first-person shooter. The Circle Pad Pro is also supported if you have one, but the best way to play is with the gyro controls. The game essentially controls exactly like Metroid Prime on GameCube but with one monumental improvement: you move with the Circle Pad and hold down the left trigger to lock onto enemies. However, because aiming is now tied to the gyro (much like Splatoon) you're still free to move with the Circle Pad while freely aiming around the environment by holding down the right trigger and moving the 3DS. The game handles beautifully with this setup. It takes a little getting used to if you didn't play the Blast Ball demo, but it's the best way to play and the early struggle is worth it. Keep in mind this is coming from someone who absolutely hated the controls of the original Metroid Prime games prior to the Wii re-release. This fixes every issue I had with those controls.
Speaking of that Blast Ball demo, you can indeed carry over your profile from the demo into the full game. If you didn't play the demo on the eShop, you're in for a treat. Blast Ball's simplistic gameplay is a ton of fun. It's soccer with giant mechs, a giant ball, and lasers - what more could you ask for? The occasional lag can cause the physics to behave in a less than ideal way but for me, these moments haven't cropped up very often.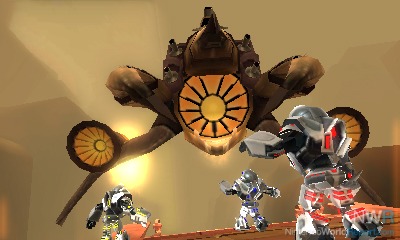 The presentation and graphical style of Federation Force is jarring when compared to the dark, realistic feel of the home console Prime games, but it solves a problem that cropped up with the DS game Metroid Prime: Hunters. While technically impressive, the adaptation of the Prime style on DS resulted in hard-to-see enemies and characters. Federation Force adapts to that problem by presenting bulkier characters and it is better for it. The world and characters still feel very much like Metroid Prime, especially Metroid Prime 3 with its vibrant colors and gorgeous bloom effects. Beyond actual design, the presentation on a whole is absolutely astounding. The character animations for your mechs and the enemies are brimming with personality and each cut scene is produced with a degree of quality that absolutely holds up against the very best the series has to offer. All of this is further enhanced by a wonderfully orchestral score that blends motifs of the classic Prime games with a more militaristic style that harkens to something composed by John Williams for Raiders of the Lost Ark or Star Wars. Play this game with headphones and thank me later.
Metroid Prime: Federation Force is absolutely a Metroid Prime game. It incorporates fresh ideas and presents them in unique ways, but it never forgets where it comes from. The co-op online shooter genre is a bold new venture for Nintendo, and one they've taken to with surprising aptitude. The odd lack of a retry button ads a noticeable hiccup to an otherwise wonderful experience, but it is one that is easily overcome with a little patience. The default controls improve upon those of the original Prime games brilliantly. All of this is wrapped up in a fantastic presentation that will keep you locked into the game's story until the very end. Metroid Prime: Federation Force is, without a doubt, one of my favorite 3DS games of all time.