Greetings, Dragon Hunter. You have been recruited by Nodens Enterprise to defend the world against the True Dragons.
Inherently, it's weird that 7th Dragon III Code:VFD is coming out on 3DS in America. The third entry of a previously Japan-only series, this game is littered with callbacks to the two previous games. But fortunately, none of those throwback references obscure or confuse the excellent dungeon-crawling RPG gameplay that features unique classes, interesting (and frequent) boss battles, and a dynamite soundtrack from video game virtuoso Yuzo Koshiro.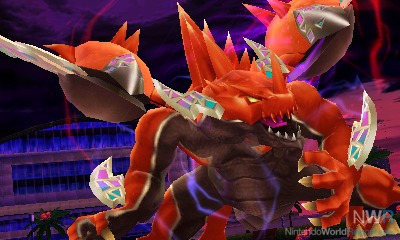 7th Dragon's nearest antecedent is Atlus' Etrian Odyssey series, as you create your own team of adventurers from a variety of different classes to participate in a story featuring a litany of non-playable characters. Where it differs from Etrian Odyssey is the view – foregoing the first-person dungeon crawling for an overhead view – and the story. Story is a constant focus in 7th Dragon III, and while some late-game twists are ridiculous in a fabulous way, it's mostly forgettable with a bunch of grating characters and protracted discussions. But that story doesn't seem to mean too much to your erstwhile band of heroes outside of the fact that you're questing through time to slay dragons so you can defeat the titular 7th Dragon. The classes, of which there are eight total that unlock as you play, are all varied with their own novel mix of abilities. The Agent can hack enemies to do his or her bidding, while the God Hand mixes fierce melee combat with healing skills and the Duelist uses a hand of elemental cards to summon creatures and more. The depth of each class makes it possible to play them all in different ways, though if you build them up the right way, you can be completely overpowered and devastating for most of the game.
While you have a three-character party at all times, at multiple junctions you're forced to split into two or three parties. Unless you're slavishly trying to balance your party, it's frustrating to be forced to either split up your dominant team or deal with an under-leveled team you haven't used much. I did appreciate being pushed to check out the other classes, but you can easily get trapped with a lackluster team that's screwed when paired up against a boss. Fortunately, that doesn't happen all too often, and for most of the adventure, you can focus on your preferred three-character team.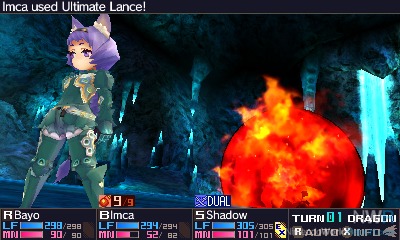 The turn-based combat in dungeons is traditional, but what separates it are the different skills and abilities. As mentioned before, the classes are all unique, making battles highly variant depending on who's a part of it. Nothing trumps the rewarding feeling of setting up the Duelist's devastating Judgement move triggered by laying out all of their trap abilities. Most of your fights are with dragons, of which there are hundreds to fight. During the main quest, most of the battles are on the easier side, especially if you've stumbled upon or built an overpowered team, but the post-game bonus content ramps up the difficulty immensely for those who are interested in sterner stuff.
Outside of dungeons and dragon battles, you spend your time at your crew's headquarters: Nodens Enterprise. Nodens is a game company that doubles as a Last Starfighter-like front for dragon-hunting. This space can be built up in a variety of ways to unlock side quests and bonuses. Some of the side quests are very charming, especially once you start saving cats and building a feline refuge. You can even go on dates with several characters, and most of them appear to end in fade-to-black loving regardless of gender. These side quests even feature some weird vaguely sexually harassing moments from your superiors, but in a manner I never expected, there's actually kind of an earned pay off for it.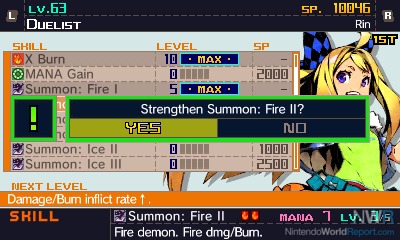 7th Dragon III Code:VFD holds up alongside the RPG titans of the 3DS library. While I personally don't feel it reaches the highs of the Etrian Odyssey series, it's still a compelling and unique RPG with diverse classes and engaging turn-based combat. The music and the setting make for a fun world to explore and man, slaying dragons is a blast.