Kirby's robobotic adventure is the late-gen gem 3DS owners deserve.
When Kirby's 3DS debut, Kirby: Triple Deluxe, launched in 2014, it was a solid, light-hearted platformer that had all the staples of the series with a few stereoscopic 3D twists. Now, for the first time since the Super Nintendo, two mainline Kirby games hit the same platform with the release of Kirby: Planet Robobot, which feels more like an evolutionary sequel than any Kirby game in the past decade or so.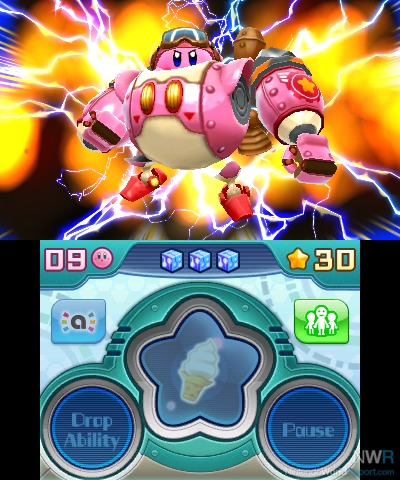 Planet Robobot runs on the same engine as Triple Deluxe, and is very similar to that well-crafted game, making use of the system's strengths with interactive foregrounds and backgrounds and even some light motion controls. Robobot separates itself with the addition of a mech suit to Kirby's repertoire. The story involves some villainous company trying to take over Dream Land with mechanized foes and in short order, Kirby takes over their mechs, adding a substantial new element to levels. Not only do you explore, battle, and puzzle-solve with Kirby and his various copy abilities, but you also regularly hop into a mech and complete these objectives in a completely different manner with Kirby's mech and his array of new variations on classic copy abilities. The way each level weaves between the two styles of play is incredible, as secrets are locked behind uncovering a hidden mech suit and environments are used in completely different ways when re-traversed in the big, robotic suit.
The mech suit basically takes the idea of the one-off Hypernova and Super Abilities from recent games and weaponizes it into a more substantial, integral, and consistent form. One segment early on takes place in an area with Waddle Dees driving cars and buses, and as regular Kirby, those are threatening, damaging obstacles. In the mech suit, you can smash those vehicles to bits without a second thought. Moments like that happen constantly; it's just incredibly rewarding to wreck the scene in the mech. The abilities are a whole other world of discovery as well, and several times throughout, I grinned ear-to-ear as I saw how a longtime Kirby ability was translated to Robobot form.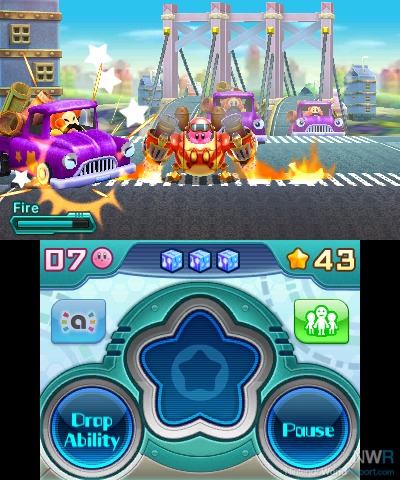 The mech is intricately woven into the very fabric of the entire game, but even aside from that, Planet Robobot is an absolute blast filled with variety. While you do go through your typical grassy and watery locales, those levels are now mixed and matched in each world in a way that doesn't tire out a setting or style. And yes, like other Kirby games, the main play-through is on the easier side, but it's so wonderfully inventive that it never feels like an impediment. After beating the main story, which lasts about five hours or so, you can play through it again in a more challenging way with Meta Knight or tackle the various other side modes.
The two main side modes, which are unlocked from the start, are Kirby 3D Rumble and Team Kirby Clash. 3D Rumble is a unique 3D game that is vaguely reminiscent of the multiplayer mode in Kirby 64. It's a solo high-score-focused jaunt where you have to inhale enemies in 3D space and spit them out quickly to rack up the best multiplier. Team Kirby Clash is essentially Kirby meets Monster Hunter. While I wish Kirby Clash was a little deeper, the basics are great fun as you can choose between four different classes and play with up to three other friends locally to take down various monsters. If these two modes get the same full-blown eShop treatment as Kirby Fighters and Dedede Drum Dash from Triple Deluxe down the line, they could be even more special.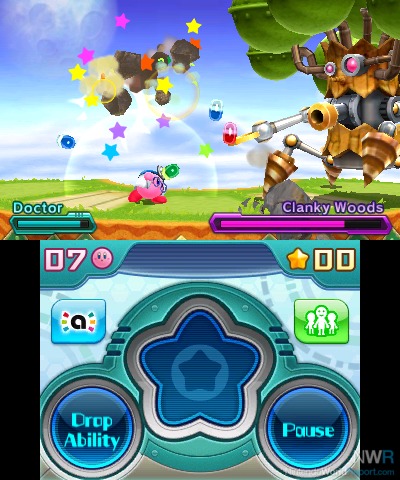 Like Triple Deluxe, Planet Robobot has a love for Kirby's past, this time in the form of stickers instead of keychains. You can find stickers throughout stages, as well as get them from StreetPass and with Play Coins. Mostly, it's just a neat thing to look at every now and then, but you can also deck out your mech with stickers on each side. My mech is currently decked out in a Waddle Dee Sailor sticker.
Kirby routinely shows up late in a system's life, and Planet Robobot continues the trend. But this isn't Kirby's first rodeo on this console, so that seemingly allows the game to be more off-the-wall and fun than past Kirby games since the groundwork has already been laid on the 3DS. From the first moment you encounter the mech suit to when you hop on a Warp Star after beating the final boss, Planet Robobot is a joyous adventure built on a foundation of fun abilities, engrossing level design, and boundless delight.