Happy Home Designer can be fun, but can also be very fleeting.
I've always wanted to be a home decorator. Well, okay, not really. But Animal Crossing: Happy Home Designer gives me the opportunity to become one without having to lift heavy furniture or pick out the right fake plant to put in a living room. The game is meant to be a spinoff of the core Animal Crossing titles in that you focus solely on the home designing aspects of the game. While decorating houses and buildings is fun, and it's nice to see a desolate town turn into a thriving community, the whole experience just all feels so shallow in execution.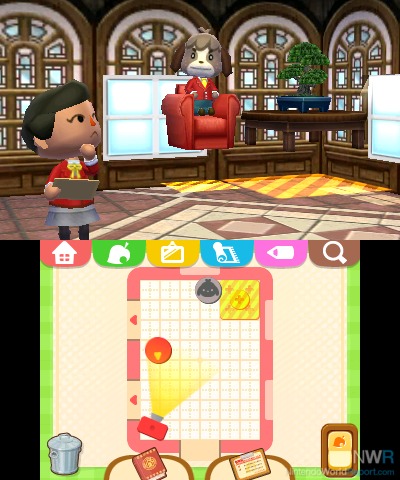 When you first start the game, your avatar arrives in a town that doesn't have much going on. You join Nook's Homes, an interior decorating firm that focuses on building houses for the town's residents. The first part of the game has you building houses for townspeople who have a theme in mind. This is all well and good, and there is creativity to be had with these themes, but once someone has a theme, you'll unlock items that make these themes much easier to complete. For example, one neighbor loved apples and wanted an apple themed house. Once I went in the house to design, many apple related items were unlocked and available to use. You don't have to use them, necessarily, but it makes things a lot easier for you when it comes to concepts. You can also upload completed houses or building designs to Miiverse and also can view and even visit other people's houses and buildings. This was fun, as it was nice seeing all the creative ideas other people had with the same theme. So I do get why they went with themes for the houses, but it still feels limiting.
The most fun part about the game was probably the tasks Isabelle, who works at the town hall, gives you in helping the town. This is all through decorating town buildings such as a schoolhouse, a restaurant, a hotel, and so on. These felt like the most fun, as they were more challenging than building a house for a resident - it requires you to think of what a specific building needs and how it can blend all together in one cohesive design as opposed to just decorating one or two rooms. It also gives you more freedom in being truly creative and coming up with cool concepts for the buildings.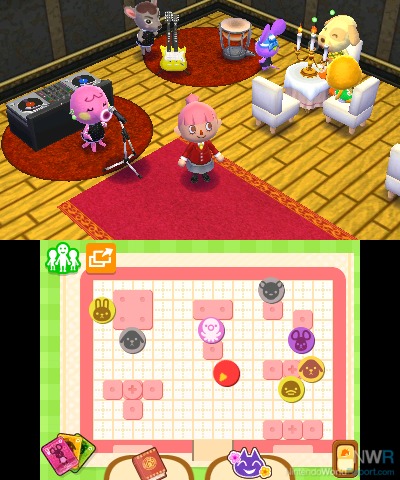 But even then, there's not really any kind of difficulty when it comes to this game. As long as you give a homeowner whatever theme they want with the items they give you, they're fine. And as long as you have the requirements Isabelle needs for the buildings, you're good. Heck, even if you forget a requirement Isabelle will politely remind you to add the required furniture to complete the decorating. With the main game experience clocking in at around six hours, there's not much to go back to do unless you want to unlock all the handbook chapters, which give you more items and decorations to use. The use of Play Coins to unlock these features is really well done and does add more creativity to the mix, but it didn't feel like a vital part of the game.
It's weird, because overall I did enjoy making cool houses and buildings with my own creative flair. The problem for me was what you could do after you make all those buildings and houses. The answer is...not much, and that's probably the most disappointing part of the game. I knew going in this would not be the complete Animal Crossing experience, because the focus is supposed to be about creating and designing structures. But I didn't think the experience beyond that would be so superficial and shallow. You can talk to the owners or other people in the buildings who will say one or two generic lines about what they like or what they're doing but there's not much to go on after that, unless you want your giraffe teacher to switch roles with the elephant student or so on. Even when I scanned in my amiibo card that came with the game, all I could really do is either build a house for Lyle, who did not even give me a theme to go on, or invite him to another person's house where he'll hang out and not say anything. Not exactly the most interesting use of amiibo cards, I have to say.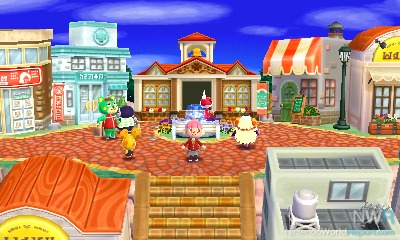 Animal Crossing: Happy Home Designer has its moments, but overall it can't escape the feeling of being a superficial game. The creative aspects of building a house or building are fun and easy to do, but almost too easy, especially when it comes to houses. It's also very nice to see a dead town turn into a thriving community before your very eyes; I just didn't expect to see it in about six hours. The most disheartening part of the game, though, are the NPCs who barely seem to exist in this world beyond saying "I like apples, please make me an apple house". While the charm of the series is fully represented here, the wit and deeper experiences of the franchise are not, and that leaves me feeling like the game overall is just a shallow title in a series that can do a lot more.