Fun-sized flight school.
So you think you have the chops to pilot an Amazon.com delivery drone? Does remote piloting and shaky cam make you feel whole? If you have answered yes to either of these questions it is time you took a serious look at Quadcopter Pilot Challenge for the Wii U.
Quadcopter Pilot Challenge puts the controls of a remote controlled, four propellor equipped drone in the hands of the player and has them polish their piloting skills through a variety of challenges. While this may seem a simple task, it takes an agile pilot to fly quadcopters. Players familiar with Nintendo's Pilotwings series will quickly draw parallels to Quadcopter Pilot Challenge. However, this game sets itself apart due to the high amount of finesse required to accurately pilot your craft through the games obstacles. Keeping the drone itself stable is a challenge within itself, bringing to mind games such as Octodad: Dadliest Catch or QWOP.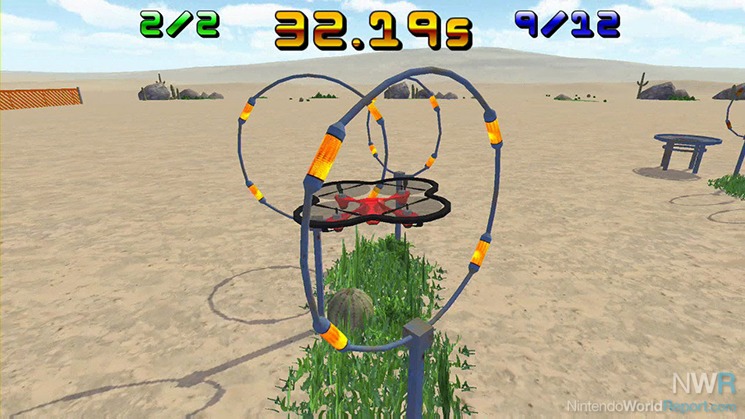 Quadcopter Pilot Challenge's main mode is the Flight Academy. This mode is broken up in to chunks of three challenges in which the player has to clear an objective and land. Players are timed during these challenges and can receive bronze, silver or gold medals for clearing the challenge under a certain time. Clearing the challenge under certain times earns the player reputation points which increase the player's rank and open up more challenges. These range from flying through a directed route to shooting targets with the copters ball gun or knocking down cans with a hammer attachment. The challenges are enjoyable and I found my struggle to control my copter more often humorous than frustrating.
Where Flight Academy falters is in the presentation between challenges. Before and after each challenge the player is presented with several pages of dialogue from flight instructor Jenny Rotors. Jenny quickly becomes a nuisance and usually doesn't have anything of value to add to the mode. Most of the time I found myself quickly mashing the touchscreen to cut through all the dialogue and get back into the game. This proved extremely frustrating after failing a level and having to wade through all of the dialogue to re-attempt the challenge.
Luckily, there is the Challenge mode which allows players to play unlocked challenges one after the other without interruption. The game features over 200 challenges and going back to win gold medals on each challenge will provide completionists with a full bag of playtime. In addition, Quadcopter Pilot Challenge also features a free fly mode in which players can fly their drones through a sandbox of various obstacles. While there isn't a whole lot of variety in this mode, it is a nice addition to be able to play around with the drone without consequence.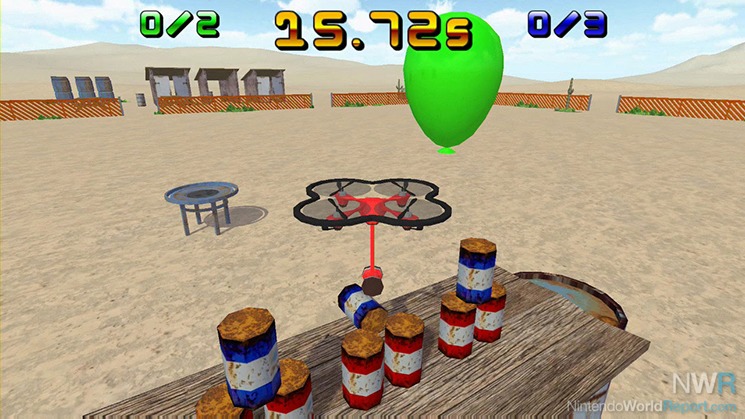 Sadly, the presentation of the game does not live up to the quality of the gameplay. Along with the aforementioned chattiness of the Flight Academy mode, the graphic and sound elements of the game lack polish. The game's environmental assets are very bland and repetitive. Off-TV play is not enabled, and the only use for the second screen is a drone camera view that did little other than cause me to be nauseated. The game's extremely limited soundtrack quickly got on my nerves and had me playing some of my sessions with the volume off.
Despite these flaws, Quadcopter Pilot Challenge is a decently filled out package with a silly but fun premise. Fans of arcade flight games looking for a laugh will be pleased with the game. Just be sure to have access to some music of your own.