This Wii U eShop game starts after the final boss is defeated and maybe it should just end there.
At first blush, the idea of Roving Rogue is engaging. This Wii U eShop platformer begins right as you defeat the final boss. However, your hero doesn't remember what happened, so you have to go back through all of the previous levels to recover your memories and unravel the truth. In practice, the side-scrolling 2D gameplay isn't affected by this novel premise. While it allows for an interesting narrative, the meat of Roving Rogue is just a stiff platformer that frustrates far more than it delights.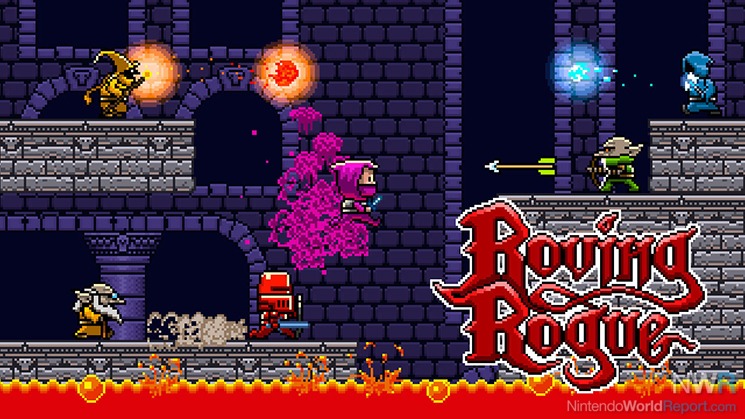 In order to uncover the story, you have to find three hidden statues in each level. Each statue helps to decipher sections of a book that tells the full story of adventurers trying to defeat evil. There are ample amounts of twists and turns along the way, but since it is all contained in this book, it's presented very dryly. Before each level, a social media-like post from one of the characters sets the stage, but those posts are usually just played for laughs. The result of all this narrative ingenuity is a story that is hard to care about. It's so divorced from the gameplay and presented so banally that it wastes the intriguing concept.
As for the platforming, it suffers from much of the same issues as the story. Each level is time limited as you're avoiding an approaching obstacle, whether it's rising lava or crumbling walls. Your hero can jump as well as teleport, but the teleporting is very rigid and restrictive. You can teleport in eight directions, but you can only teleport at two distance intervals: short and long. Teleporting has to be charged by holding down a button, which makes the often frantic platforming aggravating. Far too often, I felt like I was just fighting the controls. The teleporting mechanic occasionally opens up to some interesting stretches, but the inelasticity of the movement clouds those fun bits.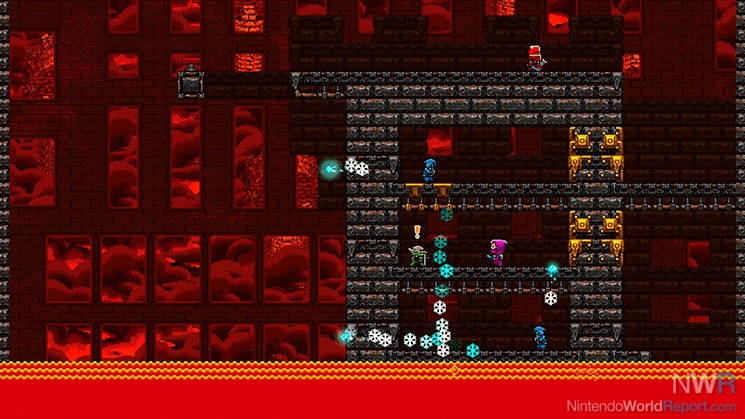 While Roving Rogue seems to be designed to be a single-player affair, there is a multiplayer component. You can play through it with up to four players. Playing with more people doesn't make the experience much better, unfortunately, and progress doesn't carry over between single-player or multiplayer.
There is potential in Roving Rogue with its unique narrative presentation and teleporting platforming ideas, but it's squandered by a middling execution. With a glut of superior platformers out there, this is a Wii U eShop game worth passing over.