A bevy of new features or an assault on your wallet?
Upon its initial release, Ace Combat Assault Horizon Legacy was a fun romp in a genre, flight combat, not explored on the 3DS. Now it is back with a few additions for the New 3DS. This revamped edition is still a good game, but it offers little new content for those who played the original.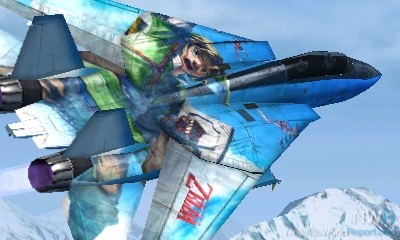 For newcomers, Ace Combat consists of a series of missions. Story missions make up the bulk of the game, where you are tasked with defeating enemies both in the air and on the ground. There are a somewhat generous number of missions, more than 20, and a second playthrough is required to unlock all of them due to branching paths. Bonus missions are unlocked during the game, offering up new challenges. All of the content is identical to the original 2012 3DS release.
When you get down to it, this new version only adds C-stick controls and Amiibo support. However, all the C-stick does is let you move the camera, which was never that useful in combat. I found it more useful for capturing images at cinematic angles for Miiverse than during the gameplay. Aircrafts are easy to pilot, and even after multiple years since playing it, the controls are easy to pick up. They are simple but effective. The Amiibo support, like the C-stick addition, is rather shallow and superfluous. Figures unlock in-game items for plane customization. They also unlock neat-looking aircraft with Nintendo skins based on which character you scanned in. Once again, it is cool for posting images to Miiverse, but the skins don't add anything of substance, outside of a neat laser from Fox McCloud's ship.
The 3D visuals were impressive when the game first came out, and now with New 3DS's Super Stable 3D, they look even better. The sense of depth in the sky brought back the memories of the first time I used a 3DS, and with the head tracking it was like trying it for the first time all over again.
If you haven't played Assault Horizon Legacy and you have a New 3DS, this is the version to get. The additions aren't major, but this version is the definitive one, as long as you own a New 3DS. If you don't own Nintendo's shiny new handheld or played the 2012 edition, hold off because there isn't anything new for you here.