Bullets with butterfly wings.
Before Sonic and even Alex Kidd, there was Opa-Opa: the protagonist of Fantasy Zone and Sega's first mascot. Yes, the mid-'80s were a magical time in video games where an egg-shaped spaceship with feet and wings could not only be the hero in a game, but a company mascot. Opa-Opa's game, Fantasy Zone, has quite a bit of magic in it as well.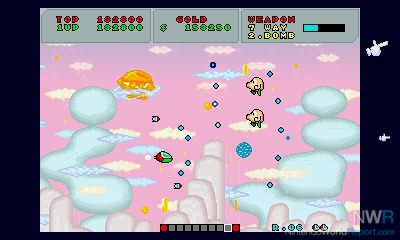 Originally released in 1986, Fantasy Zone is a horizontal shoot-'em-up where, in each stage, the player must seek and destroy a number of targets, then face a boss. The player is able to move through each stage (or "planet") in either direction, similar to 1981's Defender. You earn coins by defeating certain enemies, which can be used in the shop to buy temporary ship upgrades and extra lives. What really sets Fantasy Zone apart from its contemporaries however, are the visuals. The psychedelic pastel color palette gives each planet its own vibe, creating a pleasing and original backdrop to the carnage.
The visuals pop more than ever on the 3DS, and it's not just because of the stereoscopic 3D. The game simply translates beautifully to the 3DS' screen, and of course, M2's emulation is perfect. But, as you'd expect, 3D Fantasy Zone contains much more than just 3D and great emulation.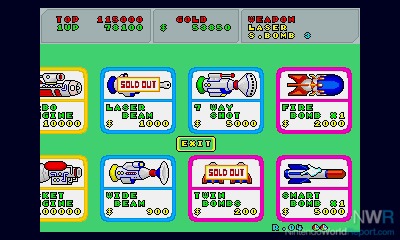 A welcome addition to this version is the ability to bank your coins. Instead of losing your money at the end of each game, you can save it up in 3D Fantasy Zone. This adds an additional layer of strategy, because now you can plan to buy lives and ship upgrades in the in-game shop during a particularly difficult stage, using the currency you accumulated in previous games. It definitely helps with survival, as does the ability to lower the difficulty and give yourself a few more lives.
The extra difficulty options are especially welcome, because despite its cute and colorful visuals, Fantasy Zone can be an incredibly punishing game. Opa-Opa is never quite centered on the screen, which makes you especially vulnerable from one side at all times. While trying to plot a safe route in a split-second can be exhilarating, it can also be exhausting. The bosses, however, are much fairer fights, with discernible and consistent attack patterns.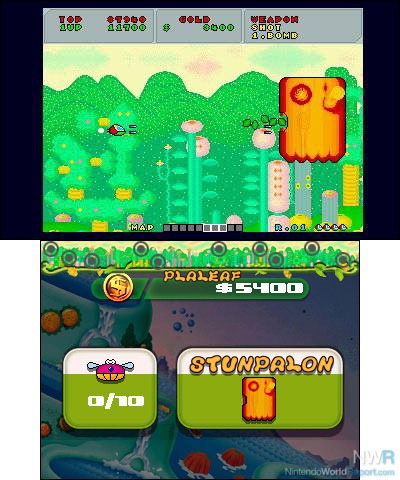 If you stay thrifty and make the most of the coin stock, you'll get your first break at $1,000,000. This unlocks the ability to extend the duration of your power-ups in the game's settings. Getting a million coins takes a bit of grinding, which is odd for the genre, but it does give you the feeling that you're always making progress. Clearing the game unlocks Upa-Upa mode, which was created exclusively for this version. But even with the difficulty concessions and stage select, I still haven't seen this mode- my playthrough has stalled out at the second-to-last stage, Pocarius. Still, Fantasy Zone is inviting enough that I plan to keep at it. Although my skill level doesn't seem to be increasing, my coin stock certainly is.
Even with the occasionally crushing difficulty, it's hard not to love 3D Fantasy Zone. It's not only an interesting footnote in Sega history and a fantastic port, but a unique and charming shooter that still holds up today.