Art is FUNdamental!
When it comes to non-gaming uses of the 3DS hardware, the bottom touchscreen has given life to multiple art apps/games. The most recent to hit the eShop is Painting Workshop. While offering a wide variety of tools at your disposal, it also manages to be clunky in its menus and operations.
Upon opening the app, there are two options available. You can either take part in one of the games 24 tutorials, or go right ahead and start painting. The tutorials themselves are tedious. They are meant to help you understand how to use the software. However, they can be long winded in giving too many details per tutorial.
The other part of the app, the actual drawing board, is well put together. The amount of tools given makes it a valuable tool for aspiring artists to create a masterpiece. Upon opening a new canvas, users can upload a picture to use as reference material. After attempting multiple uploads, I found that pictures not taken with the 3DS camera did not work. This was quite a bummer, considering I have multiple photos saved onto my 3DS SD card that would have made for good reference material.
After coming to peace with my photo frustrations, it was time to paint. As mentioned previously, there are many options and tools that you can use to draw. Selecting parts of your drawing and a bucket fill tool make this a superior app in some ways to my default 3DS drawing application Colors 3D. There were plenty of other useful settings that you would expect from other painting programs such as Windows Paint. Zooming in was also useful. Painting Workshop utilizes both screens, so the bottom is zoomed in but the top retains the full canvas.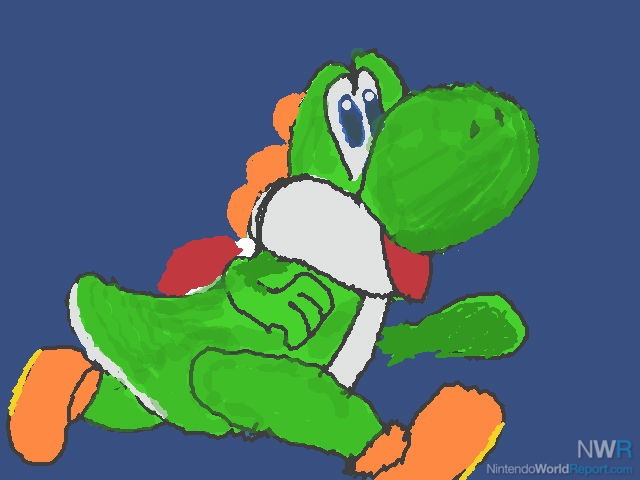 Canvases can be saved onto the SD card, so sharing and saving to your pc is easy. My attempt at drawing Yoshi should give you a good indication as to how even a non-artist like me can utilize the tools available in Painting Workshop to make something that doesn't completely look like puke.