A hilarious take on RPGs of old.
In Eden Industries' Citizens of Earth, players explore a caricature of a country while recruiting others to do their dirty work. As Vice President of the World, it is your duty to investigate odd things going on around town while still keeping your good looks after all. While the game is a fun and humorous take on classic RPGs, there were issues with the Wii U version of the title that prevented us from experiencing much of the game. As such, we're not scoring the Wii U version as it is right now because we could not finish it. Atlus and Eden Industries are working on a fix for the issues. We will update this review when that happens. In the meantime, here's our thoughts on what we could play of the Wii U version. Enjoy it while we wait for the fix and work on reviewing the 3DS version.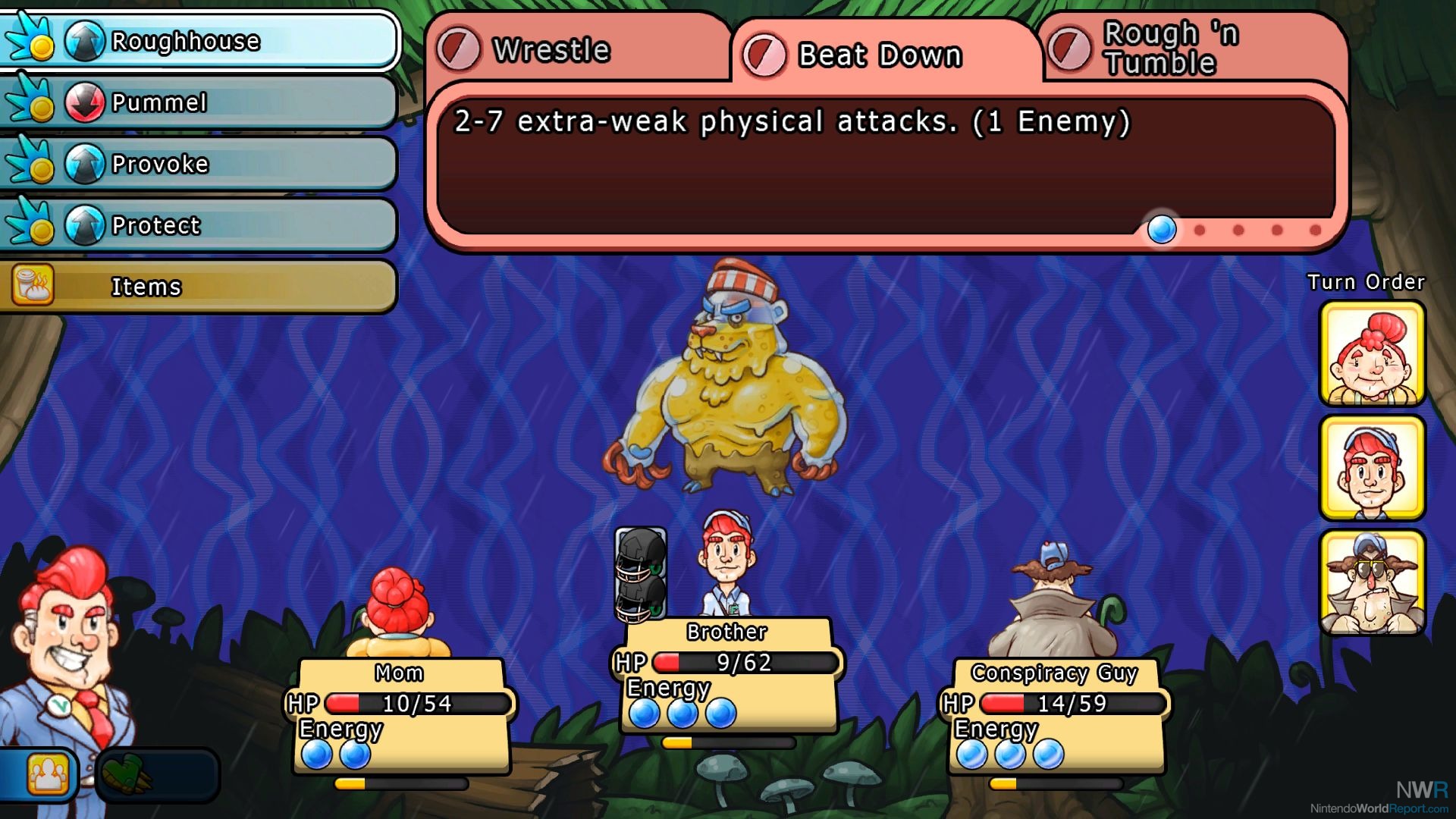 The game is split up between world exploration and turn-based battles. Every citizen has unique abilities in and out of combat. For example, the School Mascot can increase the experience earned for the whole party from a single battle, or change the whole game's difficulty level outside of the fight. Characters each have their own requirements before they can be recruited, some even challenge you to mini-games before they'll follow you. With 40 possible recruits, it'll take a huge chunk of time to catch 'em all.
Enemies wander around town and attack the VP if he's spotted. Players can choose to sneak up on them though and rush at them to gain an advantage and give their team extra energy for their special attacks. While the VP himself will never partake in a confrontation, you can have a party of up to three citizens do battle for you. Battle experience not only increases a character's level and stats, but can also improves their other ability, like increasing the amount of items the Baker can sell.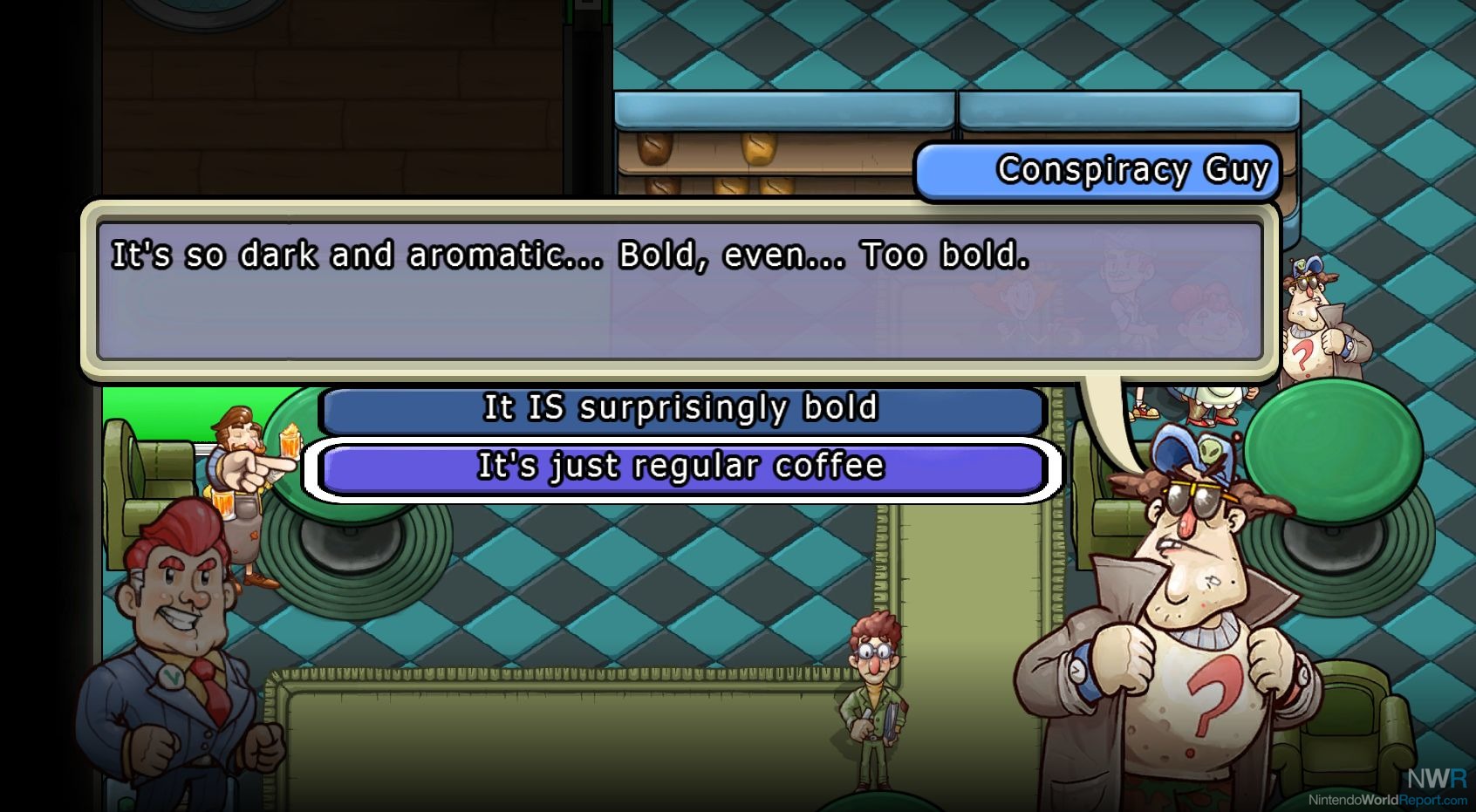 The game begins with an odd city-wide addiction to the special blend coffee at the recently opened Moonbucks. The VP decides he has to try some and sets out to get the Barista more since she's run out, but accidentally stumbles upon a strange conspiracy in the process. Unfortunately, we couldn't experience much of the story as our game had a tendency to freeze up and crash while entering buildings or new areas. When the game was working properly however, a load screen was required every time you entered a building, even one with a single small room. This made exploration a bit tedious and didn't encourage going back to a lot of areas.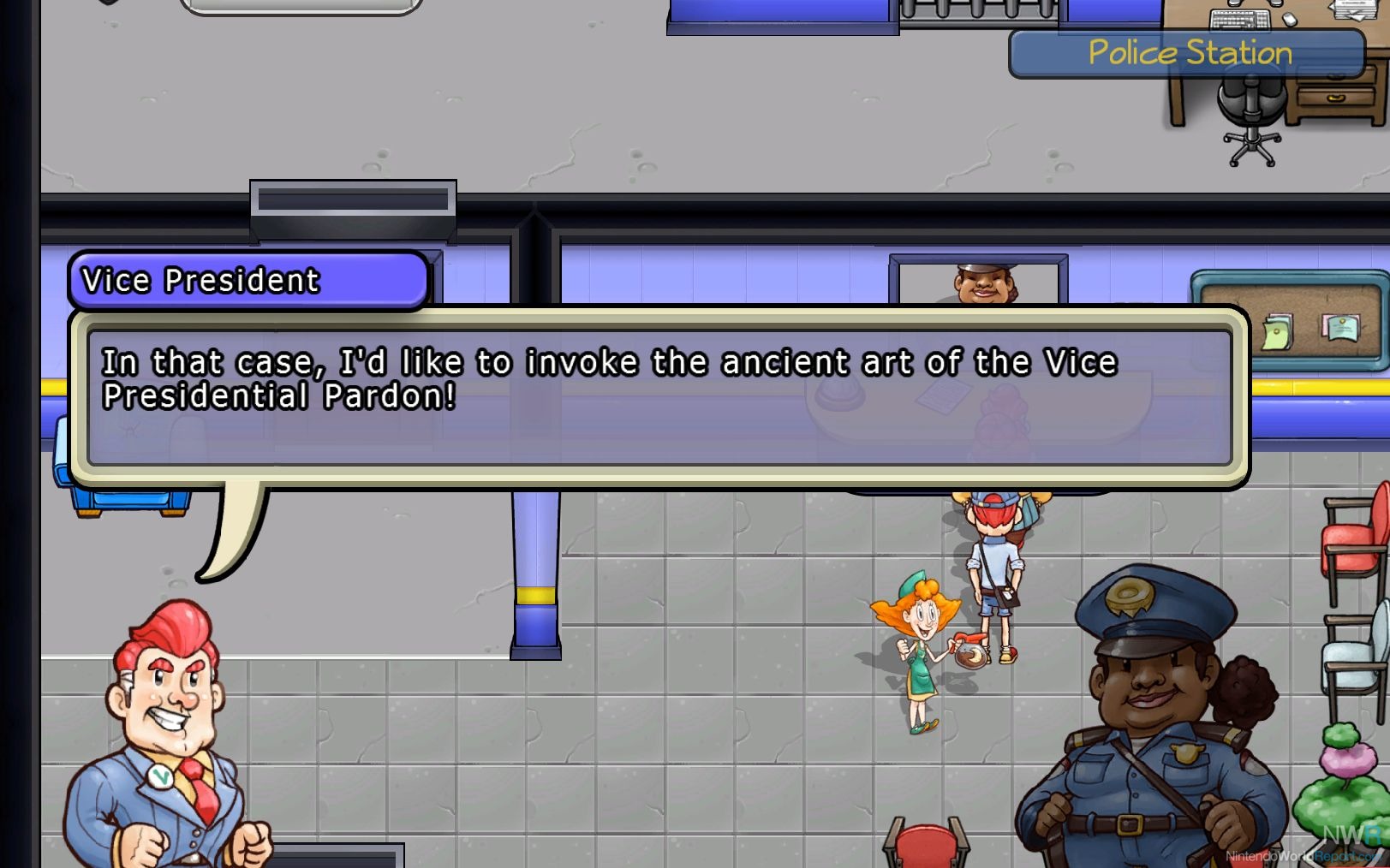 We also experienced minor glitches when equipping items to the Mom or Brother characters and when storing enemy stats to the Conspiracy Guy's almanac, but these cleared up as we progressed through the game.
However, beyond the main story, a lot of optional customization is offered in the game from the difficulty to even naming your team members. Bridges can be built to gain access to new areas and treasure, cars and helicopters can help players travel quicker, and recruits can even be trained using VR Training on scattered computers. Players can even change the weather or rearrange their character's stats.
Clearly this is a game with a lot of possibilities and a huge world to explore, keeping the action fresh and challenging and offering a lot of possibilities. Hopefully the Wii U version gets patched up soon, as it's a really fun and clever game. There is also a 3DS version, which has played smoothly so far. We will have a full review of that version as soon as we can.