Another smashing good time.
Playing as Kirby, I battled against two other foes in the classic Jungle Japes stage. I grabbed a Fire Flower and started to wallop Diddy Kong, As soon as I had finished using the flower, I gave him a simple jab. As he tried to climb back to the stage, the river flowing underneath us swept him away for a quick KO. It was satisfying, but not as satisfying as the one where I sent someone flying over right on top of Kap'n's boat in the Tortimer Island stage as the boat took off, resulting in another KO. That's what the Smash Bros. series is all about for me: using the different weapons and stages to your advantage. It results in a wacky, luck-filled experience at times where anyone could end up being the big winner at the end. Tons of experience isn't required in order to enjoy the game.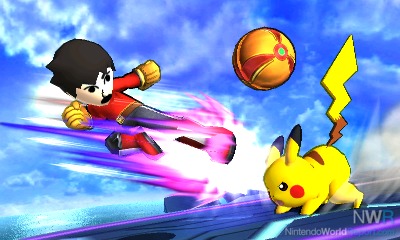 Super Smash Bros. for 3DS continues that trend. The big difference, however, is the transition to portable consoles. The Smash Bros. experience retains its charm and gameplay with little difference in the small-screen transition. The graphics are about as good as they can get on the 3DS, and the stages, old and new, are represented faithfully as you spam weapons and attacks at one another. The one exception is the 3DS's Circle Pad. It's sometimes a bother to run and jump at times, and overall it just feels sort of off. It's not a huge issue, but it kept being a recurring little annoyance during gameplay.
Many new fighters make their debut in this incarnation, adding some fun gameplay elements to the fray. Villager can grab items characters thrown at him or her and toss it back to them later. Pac-Man can use a hydrant that constantly sprays out water at his opponents. While the sheer roster number is huge and impressive, there seems to be a lot of roster padding. A number of characters come off as clones with one or two different moves, and don't seem to add much other than just to be there. It just makes you question why some fighters made the cut this time.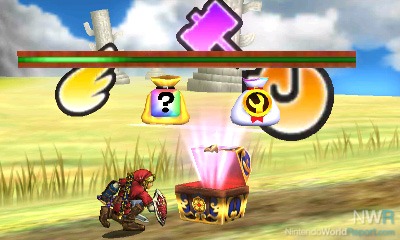 New fighters aside, Smash Bros. 3DS has plenty of new modes as well. One of the highly touted modes exclusive to this version is Smash Run, in which you battle through various Sega, Nintendo, and Namco enemies in a race against your opponents to see who can pick up the most items that enhance attack, speed, defense, and other qualities that will play a part in the final battle. The final battle is random, varying between straight-up battles to who can run the fastest or jump the highest. Each experience in Smash Run feels new and unique, making it a very compelling addition. While the mode does support local play, those who want to do it online are out of luck. That's the weird part, because this particular mode seems like something ideal for online play, but for whatever reason it just didn't happen.
Speaking of online play, the game features a robust online mode even though it's missing out on Smash Run. For Fun allows players to play against anyone with items and stages galore. For Glory is a bit different, as there are no items and all the stages are Final Destination variations. I enjoyed most of my time playing online, but I found it to be kind of laggy at times. Sometimes I would enter a match with little to no problems at all. Other times it would be noticeable, and sometimes it was game-breakingly bad. It's way improved compared to Brawl, but it's still a little disconcerting.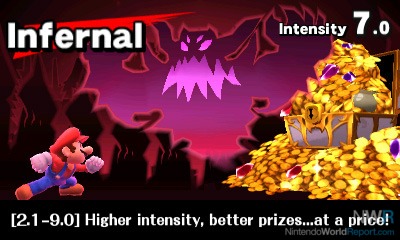 Most of the staple modes are back in the 3DS version with new twists along the way that keep things interesting. I detailed Classic mode in my day one impressions, and overall, I enjoyed playing through the mode many times to get used to a number of the new characters. Customization is also a new part of the game, picking up moves and armor to use on Mii Fighters or even existing fighters to battle it out in Smash or Smash Run. Trophies remain a big part of the game as well, with many to collect from all sorts of series, including Pac-Man and Sonic. There are a number of new ways to buy them, such as using Play Coins to buy trophies, as well as entering Trophy Rush mode, which uses coins you collect throughout gameplay to set a time, and during that time you smash as many boxes as possible until a gauge fills and trophies, among other items, fall out of the sky for you to collect. These are all fun new ways to collect trophies and drove me further in trying to collect them all.
All of the elements that made previous Smash Bros. games great can be found in this 3DS iteration. The transition is a little rough, but for the most part, everything is well represented and comes off as big as the home console releases. The mixture of new gameplay mechanics and modes and old and nostalgic moments make this newest version work wonderfully, even with the problems. Super Smash Bros. for 3DS doesn't try to change the formula in what made Smash Bros. great, but it keeps adding to the existing formula and in that, creates new experiences that continue to make the game worth investing time in.