Nintendo's free action puzzler on Wii U in Japan is a mix of adding funds to your eShop account and solid gameplay mechanics.
Buta Medal, which literally means Pig Medal, is a free action puzzle game that is available on the Wii U for a limited time in Japan from July 22 to August 31. It is part of a tie-in campaign with the recent addition of NFC payments as an option on Nintendo's home console. Even though the game is a little on the short side, the tight controls and challenging levels make it worth a download.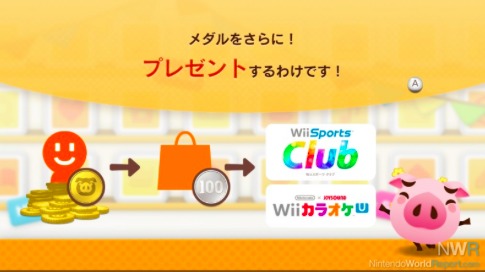 Gamers who want to play Buta Medal should go in knowing that initially they are given 30 pig medals to start out the game. The medals serve as an integral part of the gameplay as they are launched throughout the levels to complete the puzzles. Once the initial 30 coins run out, the only other way to get more (aside from winning more in a slot reel mini-game) is by adding eShop credit to your eShop account. You receive 30 more coins for every 100 yen you add.
While the main focus is to entice gamers to use NFC cards to add funds, money can also be added through other means, such as via a credit card or prepaid point card. It's a very interesting concept and a great way for Nintendo to get more money out of users that they can use on anything they want on the eShop.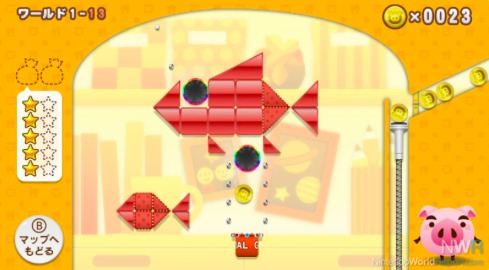 Players try to fling pig medals into the various goals presented in each level. Like most puzzle games, as players proceed further, the levels get more challenging and add more obstacles. While most of the stages can be cleared rather easily, the real challenge and addiction is found in finishing the stages with as few coins as possible to receive a medal and collecting all of the stars throughout the level.
Buta Medal is not without issues. The game sometimes suffers from occasional stuttering with the game engine, particularly when being displayed on the TV. After playing through the game for a few hours, it does appear to run more smoothly on the GamePad,. This could be because the graphical hiccups aren't as noticeable due to the smaller screen size. The good news is that this doesn't really effect gameplay that much. Other than that, visually, Butal Medal is a very sharp looking game with fun levels and cute character design.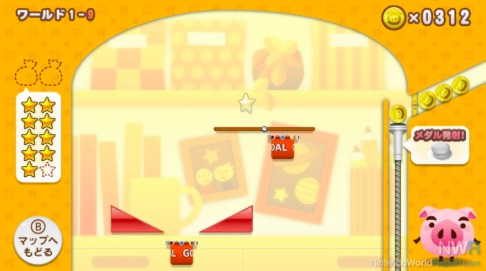 Another minor annoyance that plagues the game rears its head when you want to replay levels. After completing levels, you are automatically moved to the next. If you want to simply replay the same one over again, you are forced to back out to the main world menu and have take it from there. This gets particularly frustrating when you are trying to go for missed stars or to get medals for completing the stages with as few coins as possible.
Buta Medal is a fun free experience that could even probably fair well if it were a reasonably priced downloadable title on the Wii U eShop. The limited time frame to play the game is a bit of a letdown, as are the stuttering and inability to have quick restarts for the levels. It's a little on the easy side, but if you have a Japanese Wii U, this is definitely something you should check out while you still can.