Orion's isn't the most difficult odyssey.
Going into Orion's Odyssey, I really didn't know what to expect. I hadn't heard of the game or its Kickstarter campaign before it hit the 3DS eShop, but its charming 2D art style was enough to pique my interest. Sadly, my interest slowly faded as I found myself wondering when the real game was about to begin.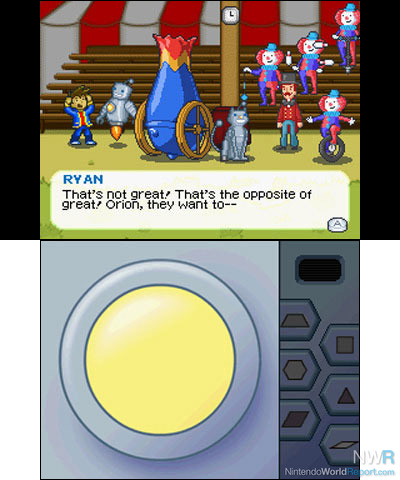 Orion's Odyssey opens as a robot named Orion travels alone, through space on a rocket ship. Unable to converse with his fellow machines on the ship, he decides to land on a planet called Earth in search of someone to talk to. Before setting foot on the planet, he discovers that he has the ability to build whatever he wants to out of thin air. He hopes to use this new ability to help the people of Earth anyway he can.
This building ability is also the driving mechanic of the game. When Orion arrives on Earth, he comes in contact with several different people. To help each person by using Orion's ability you have to complete a simple puzzle, and I do mean simple. Each item Orion creates has its own outline; all you have to do is use six different shapes to fill in the outline. The game never gets any more complex than that. You simply use the stylus to drag shapes into an outline until you fill it in. The puzzles never increase in difficulty as you progress, and there's no sense of satisfaction when you complete them. There's no "bingo" moment like there is with many other puzzle games.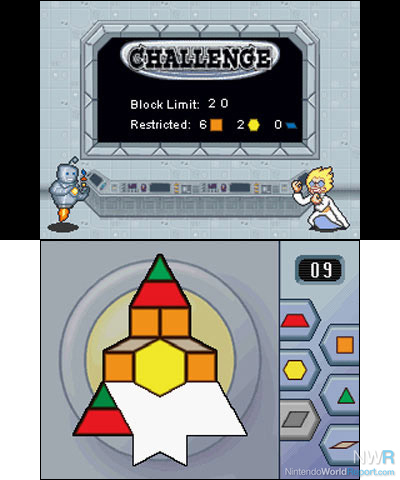 As you complete each item, the story of Orion's adventure on Earth continues along. Sadly, while the writing is often as charming as the game's art style, it isn't entertaining enough to excuse the game's overly simplistic puzzles. As you complete each puzzle, you do unlock optional challenge levels that limit the shapes you can use in each puzzle, but these are hidden in the menu, and there's no easy way to return to the main menu other than turning off the game or waiting through the dialog for the opportunity to pause the game. The challenge levels, while not incredibly difficult, offer much more challenge by simply barring you from using one of the six available shapes. They should have been the part of the Adventure mode, not unlockable extras.
Orion's Odyssey is one of the many cases of a game that looks more interesting than it actually is. The puzzles are shallow and won't be a challenge for anyone out of grade school. If the extra challenge puzzles had been part of the main story, it might have been worth playing through in order to experience Orion's delightful adventure. However, playing the main story isn't worth it to get to the Challenge puzzles.