Another physics-based puzzle game? Ohno!
Portable and mobile game platforms are no strangers to physics-based puzzle games. From games like Angry Birds to Cut the Rope, it's definitely a genre that shows no signs of stopping. Ohno Odyssey is yet another one of these games for the 3DS eShop, and while it has its own charm, the whole experience is over before you know it.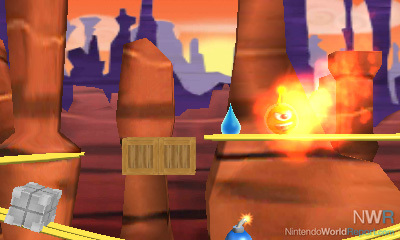 The story is simple: A ship full of aliens named Ohnos crash land on earth, and you have to navigate through five different areas to rescue them. You do this by using an arsenal of different items such as springs, ramps, oil slicks, gas canisters and more in order to guide the Ohno safely back to the ship. No transitional cutscenes, no story dialogue, just puzzles. The Ohnos don't really have much in the way of personality anyway, aside from changing facial expressions and yelling a high-pitched "Oh nooooooo!" when falling off the level, so I feel like it's for the best that they didn't focus too much on a story.
The most important element of a physics-based puzzle game is the gameplay, and for the most part, it doesn't disappoint. The Ohnos have a marble-like weight and movement to them, and I never felt as if they weren't doing what they were supposed to do. A lot of the stages required some extremely clever usage of the various items given to you at the start of the stage, as well as pre-determined items already placed on the platforms. It made me feel super proud of myself whenever I finally got my Ohno back to the spaceship.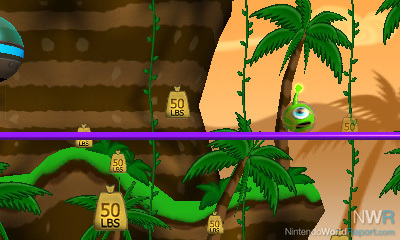 The only problem is that the interface itself was extremely clunky. The game forces you to use the touchscreen for just about everything except zooming in and out, which can be quite annoying. The cursor will also tend to lock onto the nearest placed item, making placing multiple items near one another more of a chore than it needs to be. Also, instead of the game teaching you the rules and attributes of each item through playing the level, it forces you to read several plain text boxes in the first few levels of each world. While it tells you everything you need to know, it's hard to make everything sink in when you're told all of this before you're given any sort of context to use it in.
Aside from the cutesy design of the Ohnos, everything else about the game's presentation is a bit boring. From the plain menus, bland music and backgrounds, extremely strong, albeit useless 3D, and platforms with no real theme to their design other than to be "a tricky puzzle stage," this game has a severe lack of personality.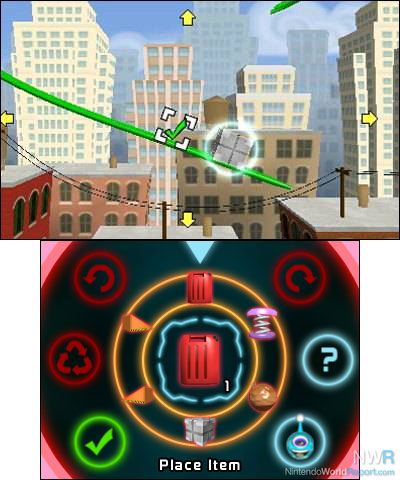 Despite the presentation issues, I thoroughly enjoyed the actual puzzle part of the game. Unfortunately the game only lasts a couple hours, so it's definitely a tough recommendation if you're looking for something that'll keep you occupied for a few days. If you're a fan of physics-based puzzle games, you can do far worse than Ohno Odyssey. Just don't go in expecting an odyssey on the scale of Homer's.