This ain't no Harvest Moon.
Hakuoki: Memories of the Shinsengumi is a visual novel dating sim, a genre popular and well-known in the eastern sector that the US is finally starting to catch up on. While the game lacks technical challenge, brain-busting puzzles, and hardcore competitive play, it still proves to be more than a little interesting with a compelling, bloody narrative that only unfolds completely after playing through it six different times.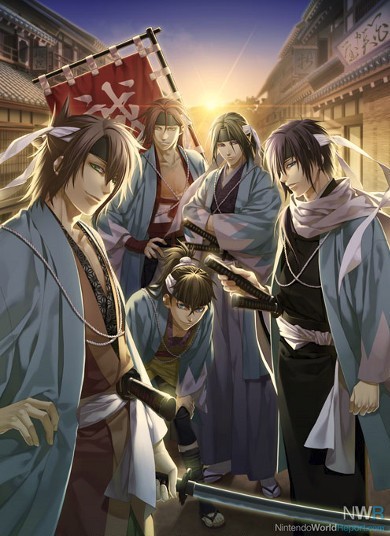 The story surrounds Chizuru Yukimura and the chaos that becomes her life after she leaves home to find her father in Kyoto. One quick note: changing the main character's first name is your only chance for customization in this game, so jump on it while you can. Chizuru, or whatever you decide to call her, soon finds herself in danger in Kyoto. Before long, she ends up roped into the affairs of the Shinsengumi, a force of Japanese swordsmen serving the Tokugawa shogunate.
The gameplay itself is straightforward. You read the story and dialogue, and when the time comes you make decisions that, one by one, ultimately decide Chizuru's fate. Each decision can increase your romance level with one of the five Shinsengumi generals, do nothing for any of your relationships, or kill you. That's right, kill you. So be careful about how heroic, how defiant, or even how compliant you are. Anything could be the death of you, but that's what makes it fun.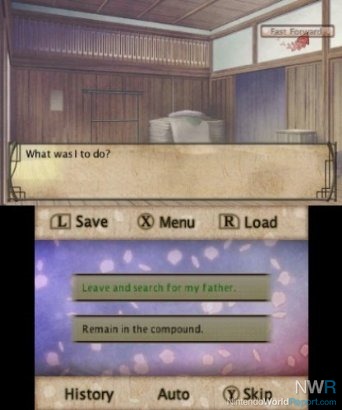 Streamlined quick save and load functions fortunately ease some of the worry about making fatal choices. Using the R and L buttons, you can perform a quick save whenever you'd like, and just as easily reload if something doesn't go your way. However, this function does not work if you make a choice that leads to death. Your only option then is to load your last hard save and hope you hadn't already sealed your fate by then. This is one of the few games where I wouldn't necessarily recommend saving often. But quick save? Spam that sucker.
While it might seem tedious to play through the story six times, since some parts overlap, Hakuoki does a great job of adding several features to nip that in the bud. During subsequent playthroughs, you have the option of skipping the prologue and then using a skip function in game that will fast forward through any text you've already read. It won't skip through anything you haven't read yet, but if you miss something anyway, there's even a convenient History for that.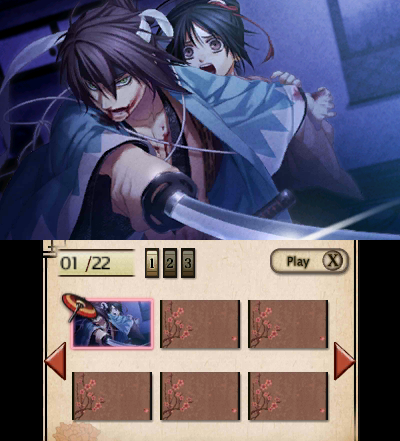 The beauty of this game is the amount of content it offers. As I mentioned in the beginning, there are six different stories that combine to create the whole picture. There is an in-game encyclopedia to fill, which sheds some interesting light on the historical elements of the story as well as the rest of it. A Record of Service also exists to catalogue your progress through each of the stories, and there's even a gallery of pictures to collect tied to each romantic candidate.
Although the strictly female protagonist and romantic nature of the game makes Hakuoki geared toward females, the characters, their snappy banter, and story make a game that can truly be fun for anyone. It may not provide the technical challenge other video games boast, but for anyone who enjoys a different, more story-centric style, there are few other places to look. And with any luck, Hakuoki's re-release on the 3DS will mean more visual novels appearing on North American shelves in the future.