Relax, pull up a chair and play some Wakedas.
Wakedas, pronounced wa-ke-da-su, is an easy pick-up-and-play game from Circle Entertainment, the guys who have brought us such games as The 18th Gate and Witch and Hero. In Wakedas, the objective is to group all the colored blocks together. Sounds simple, right? Just because the concept is simple doesn't mean this game will be a complete cakewalk. Although the game comes with no instructions, it's fairly easy to figure everything out in the first minute or two. And once that's out of the way, it's quite an enjoyable title.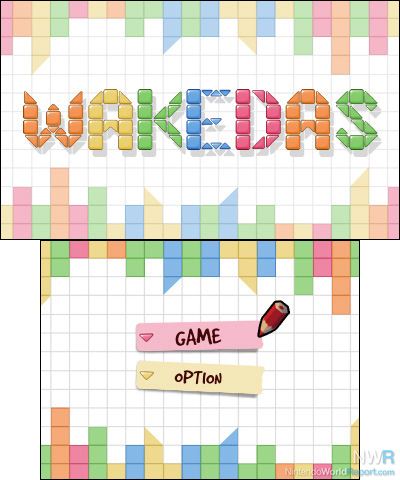 The process starts with a grid of multicolored squares. You clear the grid by moving the squares either horizontally or vertically, along with its entire row or column, with your stylus until all of the similarly colored blocks are touching. Think of it like a Rubik's cube, but with only one side. This simple concept is executed wonderfully. It's a relaxing time and a good way to flex those brain muscles.
The first handful of puzzles are a breeze and shouldn't pose too much of a challenge, but things get a bit trickier when more colors and pieces are added. As the game progresses, locked boxes, multicolored pieces, and more elaborate puzzles are introduced. The great thing about the game is that it doesn't require a tutorial. Each new challenge is presented by itself, and the game does a great job of pacing between new concepts.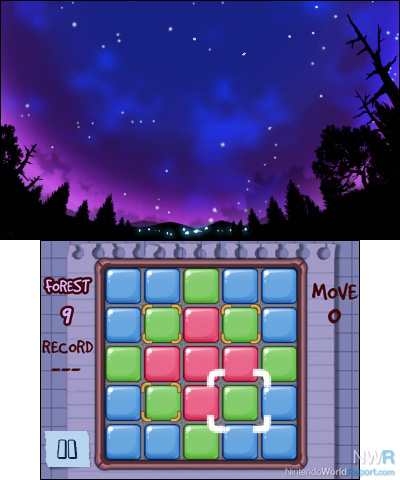 There are three tiers of puzzles, each tier having a bigger grid than the last. This makes the game increasingly more challenging and fun. Of course, the later challenges can only be unlocked by completing the first ones.
The game is a nice way to relax. Wakedas has an excellent mix of challenge and fun. The delightful colors, soothing music, and calming visuals come together to create an enchanting experience on their own. The challenging puzzles are just frosting on the already appetizing cake. For anyone who enjoys a good puzzle game, this game is hard to beat.