Picross e offers more of the same, but that might be okay.
Picross e, the new entry in Jupiter's long standing puzzle game series, is now available on the 3DS eShop in North America. And, it's certainly Picross.
With the notable exception of Picross 3D (which is actually a DS game developed by Intelligent Systems), the Picross Nintendo games have changed little over the years. For those unfamiliar to the series, players must uncover a hidden image by chiseling away at a grid of squares ranging from an introductory size of 5x5 up to a challenging 15x15. A series of numbers to the left or above the grid's rows and columns informs the player of how many blocks in that line are to be chiseled away, and in what sequence they appear. For example, a puzzle with a line labeled "1 5 3" has a single block, followed by a row of 5, and then followed by a row of 3. As for which spaces that specifically need to be chiseled, that is left for the player to figure out. When solved correctly, a pixel-art image will be revealed.
For better or worse, Picross e does nothing to change up the classic formula. The game also makes next to no use of the 3DS hardware, as even your finished puzzles appear as flat 2D sprites floating in a barren 3D room. Furthermore, the background music is inoffensive and unmemorable. It would have been nice to see the developers try a little harder to dress things up a bit.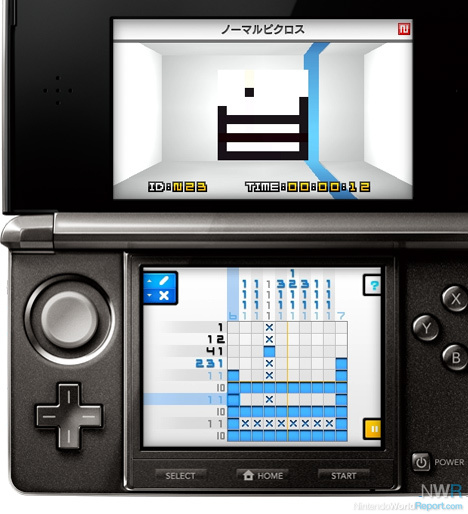 Despite the formulaic nature of this entry into the series, the game's 150 puzzles are just as fun as they have ever been, providing hours of geometric brain racking enjoyment. It's the perfect game for a portable system, as most puzzles can be solved within five to 20 minutes depending on their difficulty and your skill level. The game's various puzzle collections have two different rule sets.
Under the "Normal" rules, which are used in the first two collections, time penalties are given for mistakes. The "Free" rules are used in the second two collections, and have no such time penalties, with the trade-off being that you are not informed of you when you have made a mistake, making this ruleset slightly more challenging. Hint settings are available on most puzzles (a few challenge you to do without them), which is very handy for learning the ropes of Picross, or for when you are stuck and need a nudge in the right direction.
The option of either stylus or button controls is welcome, as players will definitely have a preference. Using stylus controls to chisel away works well enough, but requires you to hold the system with one hand. I found myself sticking with the buttons, as they were more comfortable in most situations and also made it easier to avoid selecting the wrong tile (as compared to the stylus mode).
For a low price, you'll get hours of content to enjoy. And while seasoned Picrossers won't find a wealth of new features in Picross e, that doesn't take away from the fun to be had; it just leaves you wanting more.