Cute and cuddly meets hair-pulling frustration.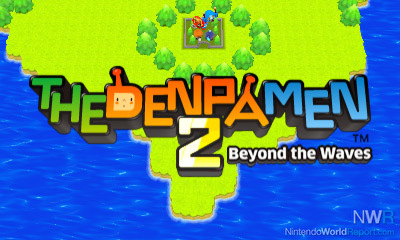 The Denpa Men 2: Beyond the Waves has a lot in common with classic RPGs, specifically the Dragon Quest franchise. It's a mixture of a strange, cutesy aesthetic, infuriating mechanics, fun-loving dialog, and downright diabolical dungeons. While in their own right, each of these things can be handled well, the experience felt like a strange mish-mash of uneven design. For the uninformed, Denpa Men are small men of varying physical attributes (in bodysuits!) that live in the radio waves filling our everyday world, and you can catch them right out of the waves (read: WiFi signals) and accrue them into a party to tackle the evil forces that threaten their world.
Our hero, a randomly generated Denpa Man, finds himself on a quest to rescue his family and after some upgrades in the early stages of the game, he is able to take up to seven other Denpa Men along for the ride. The gameplay is comprised of mostly traditional RPG elements, with some nice additions to make managing such a large team easier. For example, you have the option in combat to tell your Denpa Men to "Go for it," and they will simply perform what they deem the best course of action or "Heal" and they will dig through items and powers to get the party in tip-top shape. The AI is really quite good, and is even able to predict certain things.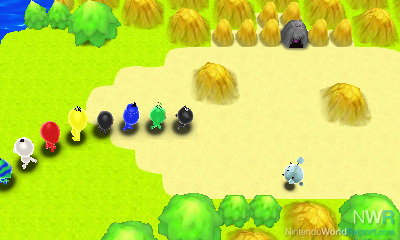 These concessions make the game easy to pick up considering the party size you're dealing with. Other simple touches like being able to fast-travel to any location from the very beginning and having very plainly laid out stats for each character make the game easier and more enjoyable. Unfortunately, for all the forward-thinking features that the game has, it has an equal amount of strange and, frankly, terribly designed portions.

Even with the precognition the AI seems to have, you're facing a terribly uneven difficulty curve. In any given zone that you're appropriately leveled for, usually one or two monsters can kill your whole party in just a couple of hits, and if you wander too far where you're not supposed to be, then you'll likely get wiped out even faster than that.
Every time your party is wiped out or a party member dies outside of a dungeon, you have to go individually resurrect each one for a fee, and if you have Denpa Men summoned from QR codes or imported from the first game, they're permanently deleted. This leads to a frustrating issue: if you can't catch Denpa Men with the right skills for the area you're in, then you have to summon them from QR codes, but one bad move and they're deleted, forcing you to summon them again and start from level one.
The secondary features do help with the toil of drastic difficulty spikes and the fear of losing party members. Fishing, planting, coliseum battles and some fun StreetPass features serve as fun distractions from the main game. Plants take time to mature and the plethora of bait make seeking out rare fish addicting.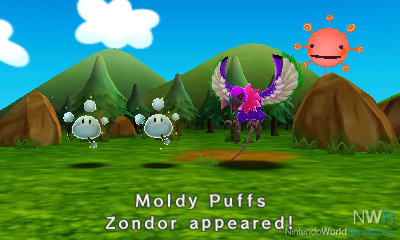 Despite its issues, I did enjoy a fair amount of my time with the game. Perhaps it's the weird attachment I found myself having to these little tiny men in bodysuits, or maybe it's the great dialog. Either way, the most frustrating part of the game, even above deleting party members, is how difficult it is to experience what is truly a fun and light-hearted story. Overall, the game feels like a missed opportunity. This could easily have been either a punishing hardcore RPG or simply a cute, fun game for a lazy afternoon, but the mixture of these two conflicting styles feels strange and unbalanced.
Denpa Men 2 isn't without its charm, and those who still hanker for the punishing RPGs of old may still find something to love here. In the end, the game is simply unbalanced, a problem that some older gamers are used to battling against. While I can't recommend it to everyone, if you're the kind of person who doesn't mind a punishing grind and some badly designed mechanics, there's a lot to love under the surface.