Call up the moving company: Fairhaven beckons.
Many claim the title, but Fairhaven is truly the city of opportunity. It offers countless activities, and affords players the choice of what they want to take advantage of. You can't please everybody, but Need for Speed: Most Wanted U tries.
Over the years, developer Criterion has built on the foundations it laid with the Burnout games. A formula that started as a racing game with spectacular crashes transformed into an open-world romp here that's about more than just jetting around from A to B (although spectacular crashes are as important as ever). With an entire city to explore in Most Wanted U, just where does one begin? Well, the choice is yours.
Easy Drive is Most Wanted U's navigation tool. With a tap of the D-pad, players can bring up a menu displaying all needed options. You can change your car, modify it, and then jump into a race, all without leaving the game. Above all else, Easy Drive is accessible and simple to navigate. Each car has a set of events particular to it, such as harrowing checkpoint races and having to maintain a top average speed. Placing in these events unlocks specialized gear that affects your car in different ways. You gain access to tires, chassis, and nitrous options, with a simple graph displaying their effect on your vehicle. If a car still doesn't suit your taste, it's time to hit the road and find a new one.
Most Wanted U strews its vehicles all over Fairhaven. When you find one, tapping X puts you behind the wheel instantly. If the test drive isn't to your liking, Easy Drive makes it simple to swap over to something else. If your first impression is poor, give it time; Most Wanted U's vehicles all have a sway about them, and while this quality can feel awkward at first, the game's balance of raw speed and tight drifting means it takes some time on the road before maneuvering becomes second nature.
Practice makes perfect, but Most Wanted U ensures nothing feels like a chore. The breadth and variety of what you can do in Fairhaven further strengthens the game's mantra of opportunity. As you search for your dream car, the world around encourages you to compete against others. The Miis of your friends adorn billboards you can soar through, your count of destroyed security gates is tallied and matched against theirs, and speed cameras rank your velocity through each Fairhaven district. This kind of competition is a prime factor in Most Wanted U. The game keeps tabs on your friends at all times, informing you, for example, that Papatch15 is ranked third with 23 cars found, and you're only two cars away! It's this competition that brings me back to MWU—I can't stand seeing a billboard covered with someone else's face. I had to right this kind of wrong in every situation, doing everything in my power to ensure I would fly through each sign and land an obscene distance away. If I didn't have the highest-ranked speed on a street, I'd forsake whatever I was doing to guarantee a better position. It consumes me, and makes it hard to put the game down. And while I can't be great at everything, the game still rewards each effort.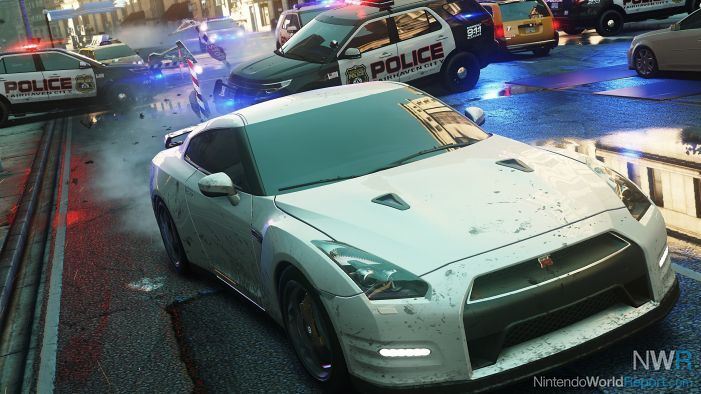 Success isn't just first place finishes in Most Wanted U; it is measured by the work you put in. Everything you do earns experience, known as Speed Points. The game hands out Speed Points no matter the situation; taking an accidental dip in a park's pond netted me experience just as any other accomplishment would. They don't always come easy, though; some events require many restarts and can take a while to master. Risks are rewarded, but they're never without consequence.
A diligent police force patrols the streets of Fairhaven. Marked on your map, they unleash hell should you cross paths with them. Evasion is possible, but difficult. Roadblocks, spike strips, and armoured vehicles are a common sight should you remain a nuisance. You can escape into a race with a few presses of the D-pad, but the police return to carry out their duties in some events, such as the Most Wanted competitions. These races pit you against another nefarious driver and an entire fleet of Fairhaven's finest. Not only do you race your opponent, but you also have to watch out for officers who don't mind giving and receiving a ram or two. Of course, the icing on the cake is that after defeating your opponent, you have the opportunity to crash his car and take it as your own.
If you'd rather play with friends than with cops, Most Wanted U is sure to please. Accessible from the Easy Drive menu, multiplayer allows six players to paint the town red together. Be it friends or strangers, the various festivities keep the game's focus on diversity and competition alive. Once pulled into a game, Speed Lists come into effect and act as a schedule of activities. Certain stipulations, such as limits on what cars are available, can make Most Wanted U's online a great place for beginners. This creates a more even playing field, although the loss of one's "pimped ride" from the single-player side for a lumbering SUV can sting. The event at play is not revealed until all players reach a meeting point, and it's here where things get interesting. In addition to traditional races, I've also had to play King of the Hill on the tip of a downed plane's wing, jump and land onto suspended construction equipment, and sail off ramps for maximum airtime. In many cases, these were cooperative events, but greed makes fools of us all as we fight for the top spot. The Most Wanted U community remains strong as of this writing, and I never have problems finding others to play with. Beneficial to the experience is the GamePad's built-in microphone, which allows for hilarious banter as you "try" not to send your teammates off a cliff.
Hopefully this praise takes your mind off the fact that Most Wanted U is a six-month-late port. The negativity around these less-than-timely offerings is understandable, but MWU is an amazing game that shouldn't go by unnoticed. Exclusive to this version of the game is the much-appreciated Off-TV Play option, as well as Co-Driver mode. Positioned as a training tool for the less experienced, this functions more often as a simple way to adjust the time of day and check the map. It's certainly appreciated, but never provided much value when used as intended. The game also goes as far as to support the Wii Classic Controller Pro (a rare treat indeed).
Fairhaven is a city of opportunity because it allows players to explore its streets and its secrets how they choose. You can succeed in areas you want to, largely without following a prescribed path. It rewards every possibility, not just the most elite of accomplishments. It's packed with content, and even in the later hours I was thrown into areas I had yet to discover. Whether you choose to explore, race, or compete with friends, there's a home for you in Fairhaven.