A new name takes a familiar form, with surprising results.
On paper, taking direct inspiration from the Lords of Shadow interpretation of Castlevania doesn't play to Mirror of Fate's favor. Handheld Castlevania games have long been associated with expectations for a specific and traditional hue of gameplay and presentation, with which the combo- and cinematic-heavy Lords of Shadow brand might seem incompatible. In a sense, this concern is accurate; Mirror of Fate is not the expected breed of portable Castlevania. However, it finds firm footing on the 3DS by communicating these ideas and more in a simple and streamlined manner.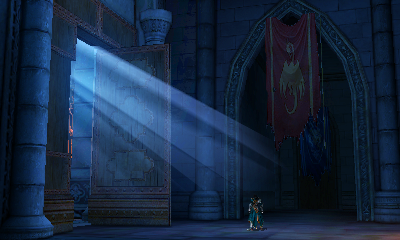 The emphases and defining traits of Lords of Shadow dictate much of Mirror of Fate's aesthetic, action, and narrative, but the experience is never slavish to any of them. Across its distinct sections, which focus on members of the long-maligned Belmont family, Mirror of Fate smartly balances this core set of gameplay types.
Chief among them is exploration. As you traverse its landscapes and interiors, Mirror of Fate charts your progress on a standard grid map on the system's bottom screen. Here, the game uses points of interest sparingly, and marks most automatically. While reliable in accounting for the most important of these (e.g., objectives, exits, and supplies of health and magic), Mirror of Fate makes an odd concession for secret areas. In the course of play, it marks most collectibles and upgrades. However, for impasses (which you need to circle back to with an ability or item acquired later) it requires you to dip into the touch screen menu, drag a marker to your location, and leave a written note. Mirror of Fate's individual areas are not sprawling; you move through most of each on your way to an objective, which leaves untouched areas easy to spot from a read of the map. Even so, halting play to make your own reminders is an odd decision compared to the intuitive marking used elsewhere.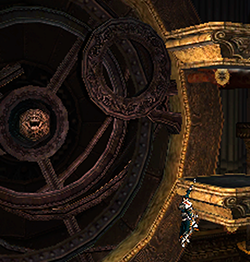 Mirror of Fate gives the player a compact set of tools to navigate each connected castle section. Aside from jumping and climbing, each character has access to a few select skills necessary to overcome the obstacles unique to his isolated chapter of the story. This simplicity doesn't subtract from the challenge or enjoyment of clambering about the decrepit castle grounds. In fact, it allows Mirror of Fate to focus on building a detailed and believable environment around these points of interaction. The result is platforming that feels natural in construction and in context, instead of needlessly difficult or shoehorned in for its own sake. Mirror of Fate also works deftly with player size in relation to movement and activity. When you're navigating a platforming section or solving a large-scale environmental puzzle, the camera tends to pull out. In making the character a smaller piece of the overall picture, Mirror of Fate can better present the immediate pieces of the world and the depth of the impressive backdrops complementing them.
When it's time to fight, Mirror of Fate focuses the camera for an intimate view. Though combat is shown from a side perspective, the camera often positions itself slightly behind the character, slung low to profile the attacking creature. Mirror of Fate's more important fights employ this and other uses of a malleable perspective to particularly great effect. In one early confrontation, the powerful opponent lingers in the background and directs groups of animal minions at you. The moment they're dealt with, it roars into the closer plane for an aggressive, seamless attack. Other situations play upon loosening or tightening the camera's view on the field, depending on the opponent's attacks.
These behaviors are in service of a focus on measured, well-photographed monster fighting. However, they don't blunt Mirror of Fate's smart combat. Through simple combinations of the X and Y buttons, it puts a variety of chainable moves at your disposal, from short and reliable ground attacks to more complex and devastating battle choreography. Mirror of Fate lists the procedure for each well-animated attack on a menu, but memorization is not required for effective combat. Attacks tend to build off each other naturally as you complete strikes, and you need only land a few standard blows before you reach an effective combo.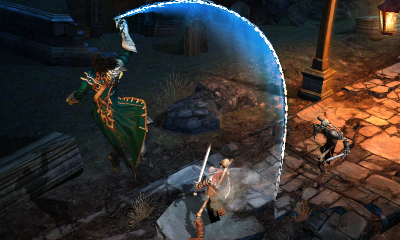 Mirror of Fate also facilitates fluid combat with a set of mid-action mechanics. Each character can evade with ease at a moment's notice—in the air, on the ground, and mid-strike. This ability is invaluable, and designed well within the machinery of animation and attack. You can also block and counterattack enemies' standard efforts and evade their unstoppable attacks, which the game excels in making ever transparent. Impeccable consistency in checkpointing also makes Mirror of Fate an easy experience to stick with through difficulty; fail midway through a fight, platforming section, or quick time event, and you'll return in nearly the same position. In every facet, Mirror of Fate's combat doesn't intrude unnecessarily, but acts as a well-built and supportive addition to a stronger whole.
Mirror of Fate's overarching story, though designated in chunks to a handful of the series' well-known faces, ends up adding little of importance to the experience. From time to time, it takes small breaks to address the larger plot in the form of graphic, darkly lined animation. But what defines and legitimizes the experience is its deft framing and execution of environments and situations, not the Belmonts' melodrama or having to check itself to series' expectations. Mirror of Fate is a confident interpretation of well-trod mechanics and themes, and the Castlevania name is stronger for it.