Before Cave Story, there was Ikachan.
Many Nintendo fans fell in love with Cave Story when its publisher, Nicalis, released the indie game on WiiWare. The action-packed side-scrolling adventure game, with many hidden secrets, clicked with players because of its cute pixel art and Metroid-like level design. The game's sole developer, Pixel, had previously developed the simpler, smaller project, Ikachan, released on the 3DS eShop by Nicalis.
Ikachan is a squid with a strong resemblance to one of Super Mario's Bloopers. At the game's onset, you wake in a deep, underwater cave and are given the command: "Swim, Ikachan!" From there, you are left to explore your surroundings. Initially, Ikachan is utterly defenseless, but you are quickly led to the first power-up, a pointy hat, which allows Ikachan to attack and break blocks. Both enemies and friendly urchins populate the area. You are a complete stranger to them, but they are in a dire situation and in need of your help: earthquakes are hitting the area with increased frequency and ferocity, and food reserves are getting dangerously low.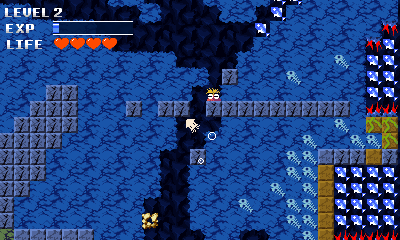 Movement in Ikachan is limited; he can be propelled by tapping the A button, but can only be aimed straight up or angled slightly left or right. If you need to go down, you have to let gravity do its thing. Getting around can be fast and satisfying in the game's few large caves where you have space to build up momentum and travel quickly in a long arc. The narrower, interconnecting passages unfortunately make gaining speed difficult and coming to a complete stop every time you touch a wall causes some frustration.
In Ikachan's structure, music, and design, one can see the seed of what later would be fully realized in Cave Story. It remains only that, however: a seed. A bud, even, with unfulfilled potential. I don't usually fault games for being short. In fact, I often prefer shorter experiences, but Ikachan failed to satisfy me. Its interesting world contains blocked areas that are promising, but ultimately quite small. Gaining access to these areas is rather inelegant: talk to every NPC you can until you happen to find one with something new to say. An earthquake occurs, and a new path opens up. Two abilities are gained over the course of the game that allow you to break through obstacles, but they only served to whet my appetite. When the game ended only two hours later, and no new mode, difficulty setting, or alternate ending provided me with an excuse to go through the game a second time, I couldn't shake the disappointment.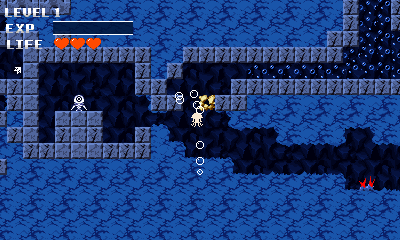 While no modes or bonuses were added to make the paid eShop game more attractive than the freeware version that has been available on PC for over a decade, the 3DS is the absolute best way to experience the game. Given its low resolution compared to other modern portable devices, the 3DS screen does not favor most 3D (polygonal) games. Pixel art, however, which has no pretense of having smooth, straight lines, positively shines. Ikachan's sprites and environments are simply gorgeous on the 3DS screen, and turning on the stereoscopic 3D effect separates the foreground and the background while making bubbles pop subtly out of the screen—a most pleasing effect.
Ikachan left me wanting more, and not entirely in a good way. However, it is a curiosity worth discovering for ardent Cave Story fans who have a distaste for the PC platform. If you are set on playing it, the 3DS is the absolute best platform on which to experience it.