Madden puts up some nice stats in its rookie season on Wii U, but still misses the playoffs.
After a generation of disparity on the Wii, Madden on the Wii U is now on par with the latest entries in the series. While I personally enjoyed the exemplary multiplayer of the Wii Madden games, the RPG-like Franchise experience was generally lacking. In Madden NFL 13 on Wii U, which is similar to the Xbox 360 and PlayStation 3 versions, almost all the bells and whistles are present, making it a fine football experience as long as you can deal with some graphical hiccups.
For those unfamiliar with Madden on other systems, the centerpiece of this game is the Connected Careers mode. In here, you can control either a coach or individual player (of your own creation or from a roster of current and past greats) and play a series of seasons as that character. Playing as a coach is nearly identical in practice to the series staple Franchise mode, while controlling a player is akin to the Be A Pro modes in other sports games, meaning you only control your player during games. These modes are fantastic thanks to their depth, even more so if you take them online, which you can do with up to 31 other people. While the servers on Wii U were rocky for the first day or two, the Madden servers (powered by EA Origin) are working fine now, and my online experience has been solid.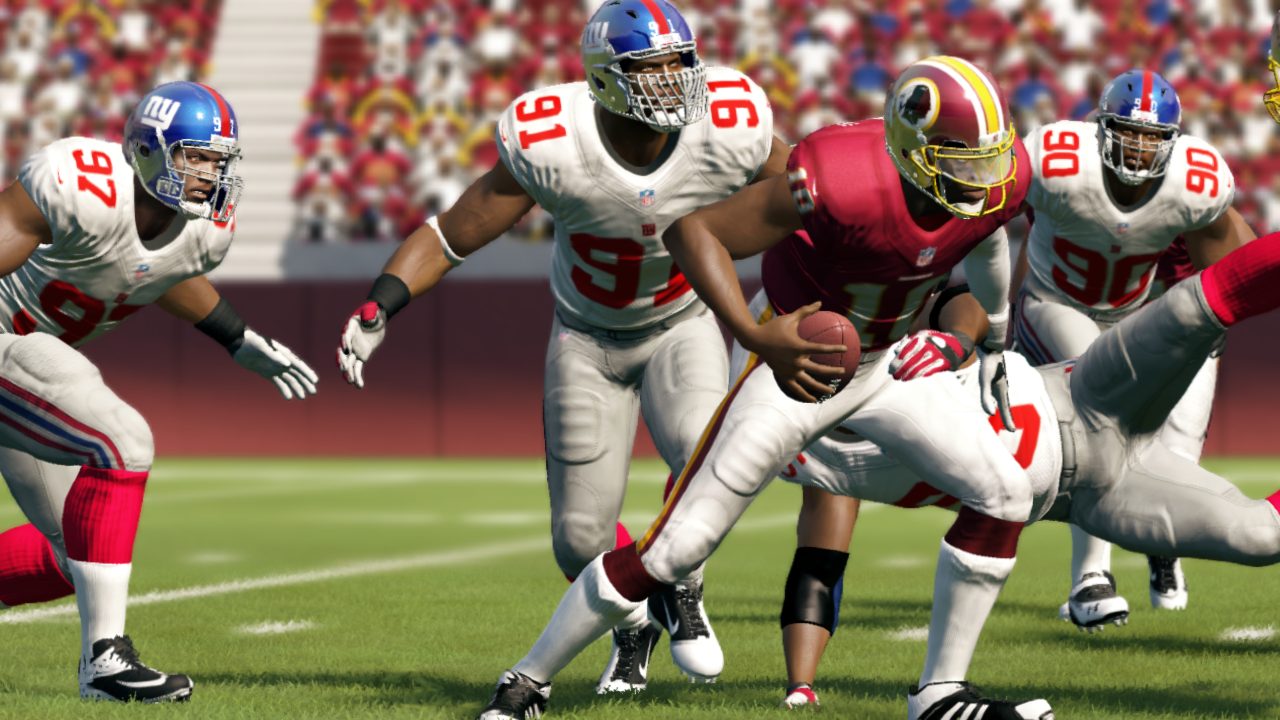 However, Connected Careers is basically the only full mode in the game. You can play individual games and also take part in Madden Moments, situations updated weekly based on controversial or compelling games from the previous week of football. They aren't anything special, but tie in nicely to what is actually happening in the NFL. Madden on Wii U lacks the Madden Ultimate Team card game, a microtransaction-focused mini-game where you compile a team of players using cards you get from purchasable packs. It is a loss for those who may enjoy it, but it's not central to the game, and doesn't drastically affect the overall package.
The big, and pretty much only, Wii U addition is the GamePad, which is implemented wonderfully. Using the GamePad as a second screen while playing alone is tons of fun. Your eyes bounce between the two, but you usually just looking down at the GamePad when you're coaching, and up at the TV when you're playing. As such, the GamePad is used to select plays and make pre-snap adjustments. It's easy to sort through plays with a tap, and using your finger to change receivers' routes on the touch screen is far better method than using the Wii Remote's pointer in past Wii versions. Simply put, it is a joy to play Madden with the GamePad.
You can also play Madden on just the GamePad, though you can only initiate it from the main menu and not during a game, which is a bummer. On the screen, the game is gorgeous and runs smoothly. You lose out on the GamePad features, but the core game is fine by itself. It's surreal playing a Madden game of this caliber on the couch while watching live football on TV—even more so when said game features the same announcing crew, Jim Nantz and Phil Simms, who make their series debut in this game.
For the most part, the game runs fine. Graphical slowdown unfortunately crops up at times, and the game noticeably dipped in quality when playing local multiplayer. Some menus run slowly, but the UI was also sluggish on Xbox 360. The game lacks the series' new physics backend, dubbed the Infinity Engine, which removes the canned tackle animations of yesteryear. The Infinity Engine wasn't too sharp in the 360 version, though, as players would often bend in weird ways. If it weren't for the some complaints about this missing feature, I likely would have never noticed the difference.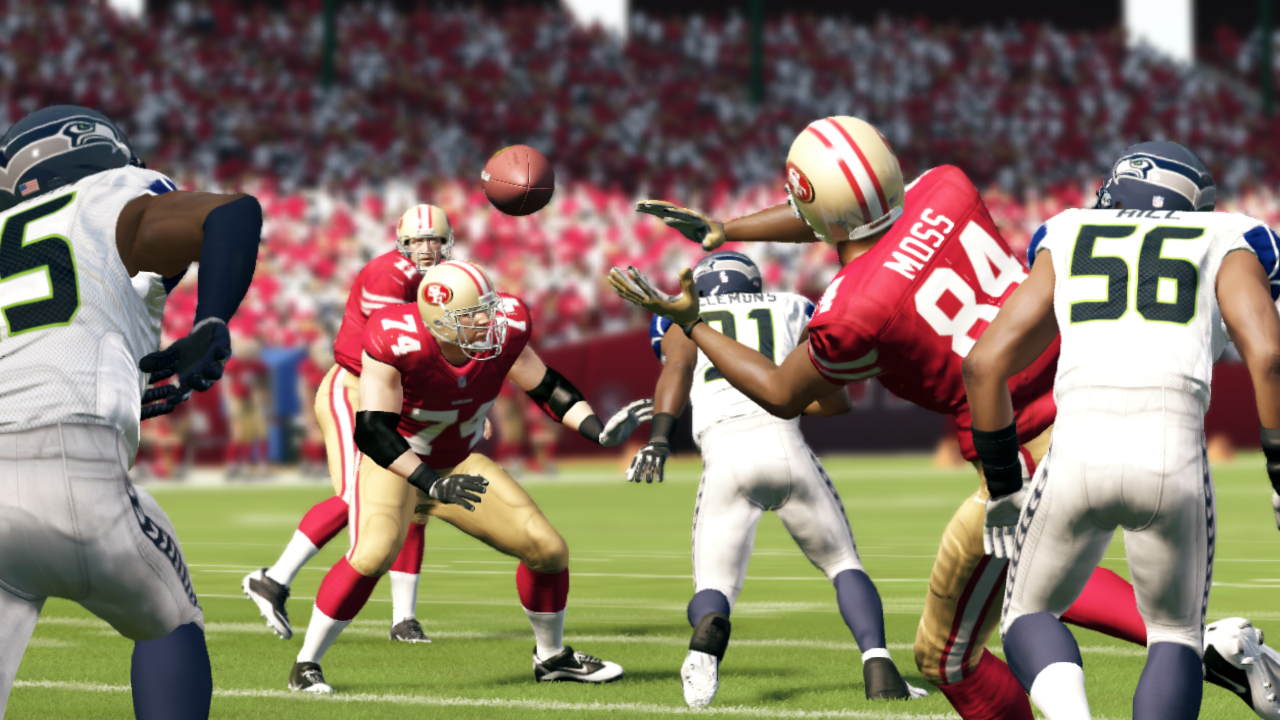 If you're a Madden veteran, you probably made your platform decision this year. As such, I can't recommend you get this game, as it is, at best, only comparable to what's already available. However, Madden NFL 13 on Wii U shows the potential for football games on the system. The GamePad could be something special for sports games, giving you that extra layer of control and depth, while also offering Off-TV Play. Madden on Wii U isn't superlative this year, but I would keep an eye on this series; the potential is there, it just hasn't been fully tapped.