Because Cart Crashers wouldn't be as kool.
Kart Krashers offers a weird bit of parallelism on the entire DSiWare library. Its developer, Big John Games, released Thorium Wars early in the service's life. This shooter was fun, though generic and visually uninteresting. Kart Krashers, running on the same engine, has a lot more personality, with plenty of color and interesting level designs. It more or less encapsulates what makes a good game on DSiWare (or even the 3DS eShop): a fun, easy-to-play experience that has fantastic, solid gameplay.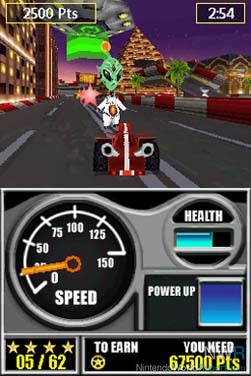 Kart Krashers is a kart-based action game, and controls as you may expect (you use the D-pad to steer, the shoulder buttons to drift, etc.). Your goal isn't to finish a race, though. Instead, you try to collect points by collecting stars, defeating enemies, and more. A multiplier builds as you collect items one after the other; to get high scores, you need to keep that multiplier up.
The controls sometimes hinder that goal, unfortunately. For the most part they're great, but if your kart flips over, you may end up watching it haplessly flip all over the place for several seconds until you right yourself. There is a button to flip your kart over when it's upside down, but it doesn't always work well. I've had a few multipliers die because of this, especially as the levels get more complicated.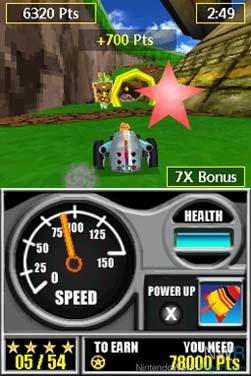 Still, that issue aside, the game has 10 awesome levels with three layouts each. The varied levels include a stadium, ancient ruins, and the moon, and their layout and designs are clever and increasingly more complex. Throughout levels, you gather power-ups that help you collect more points. You can use a boost to get to hard-to-reach areas, use a shield to allow you to run into enemies, or use the really goofy-looking broom power-up to sweep through areas, collecting and destroying everything in your path.
Kart Krashers isn't complicated, but it is very fun. For a download game, it offers a wealth of digestible content, complete with achievements and unlockable characters. There's even a cheesy story that justifies why you're mowing down aliens and zombies in the levels. DSiWare is coming to a close as a service, and when history looks back on it, Kart Krashers may be remembered as one of its best games.