UFO Interactive's fourth eShop game is their best yet.
UFO Interactive is one of the most prolific 3DS eShop developers; Balloon Pop Remix is their fourth release in the past year alone. Most of those games were middling affairs, but it seems like UFO cracked some sort of code with Balloon Pop Remix, a well-made puzzle game that offers a solid portable experience.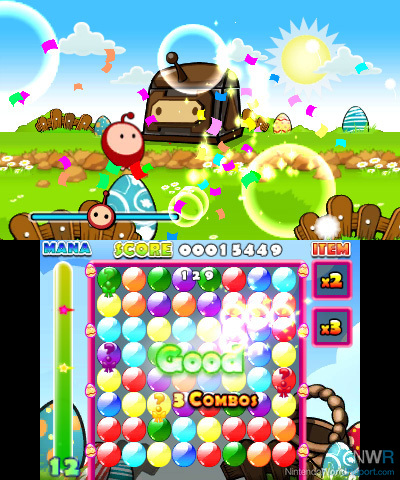 The game is a weird cross between the Bejeweled and Puyo Puyo puzzle archetypes. You're presented with a grid of balloons on the touch screen, and you have to pop groups of two or more balloons to then set up combos of three or more balloons of the same color. To complicate things, you use mana to power your balloon popping, and regain mana by accruing balloon combos.
Foresight and skill is required to set up most combos, but sometimes you'll slip into a particularly lucky string where everything falls into place. When you pop or combo balloons, more fall into place, thus making any combo after three or four a random affair. It's still rewarding when you see the combos soar, though. Items and concepts are also continually introduced through the story mode, giving the game even more depth.
The plot of the story mode, presented in a few cut scenes that really pop in 3D, revolves around an alien who crashes his ship and has to regain the parts (think Pikmin, but with balloons instead of cute creatures). You need to keep your mana higher in this mode because it is split up into three categories: run, walk, and stand. You want to keep your character moving so you can progress through the level, and you can't do that when your mana is in the "walk" position.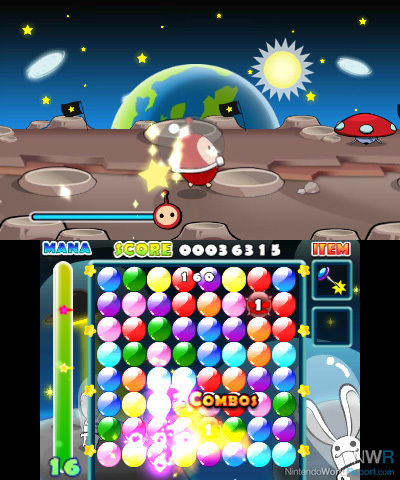 There is also Endless Mode and Puzzle Mode, but neither one is that engaging. In Endless Mode, you shoot for high scores; Puzzle Mode gives you limited groupings of balloons, and tasks you with wiping out the entire screen by strategically popping balloons. There are also a few mini-games, such as one where you have to drag colored balloons into the correct colored area, but none of those are interesting for longer than a few minutes.
The highlight of the game, for me, was the 3D effect. As previously stated, the cut scenes feature a wonderful 3D effect. While the gameplay is primarily on the touch screen, I had the occasional awesome sensation where, out of my periphery vision, it seemed like the game was throwing something at me from the top screen.
Balloon Pop Remix won't supplant the Tetrises and the Dr. Marios of the world, but it's a fine puzzle game that presents a complete package on the eShop.