An RPG first slated as a retail game on the eShop? Go on!
Going into this game, I didn't know what to expect. Planet Crashers was originally supposed to be released at retail, but was held back to become an eShop title. It's a dungeon crawling RPG from Renegade Kid, the people who made Mutant Mudds and Dementium. The color palette has more in common with the former than the latter, as Planet Crashers takes place in a jokey, vibrant world where people use bananas and pencils as weapons.
The world, as evidenced by the weaponry, is overly jovial, with bright visuals and a playful sense of humor. The 3D effect in the game is stellar, and stands out alongside the Animal Crossing-like display of the planet. It's clear this was meant to be a retail game, as there is a higher level of graphical firepower behind this game than your average eShop title.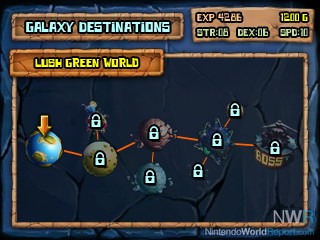 Players begin by creating a character they then take on an adventure spanning multiple planets to save the universe. To do so, players must complete quests both fun and mundane to build up their character and take them to other planets to complete more quests.
To say Planet Crashers is a slave to the quest system is an understatement. That's the crux of the game, but it's not quite a bad thing. There are some weird quirks; for example, you have to take a quest and then accept the quest (a process involving several different menus) to actually do a quest. Still, it's fun to explore the game's dungeons, fighting enemies and collecting items.
The turn-based combat system is great, though it can slow down the game at times. You have four skill slots, and over time you build up a reserve of different skills to choose from. These attacks do more damage depending on your timed button presses. The system is somewhat reminiscent of those in the various Mario RPGs, though it is simple in comparison.
On paper, Planet Crashers doesn't sound too interesting. As I'm writing this, I'm questioning the fun I had. Combat gets repetitive. The main character moves too slowly at times. Fortunately, the game has that MMO-like appeal where you just want to complete one more quest to get some new gear, see a new planet, and make your character stronger.
It also helps that the locales are varied just enough, with new enemies and environments. The first planet is pretty plain and generic, but the second features a Halloween theme and has evil Santa Claus-like enemies. There are four planets in all, and quite a bit of content to go through.
Planet Crashers 3D is a quirky game from start to finish that takes place in a world that might remind you of a twisted, combat-heavy Animal Crossing. The RPG gameplay can be a grind, but if you just like completing quests and traversing dungeons, it's an eShop game worth diving into.