Renegade Kid drops the bombs with their next eShop game.
With Renegade Kid's recent retro-flavored resurgence, one aspect of their games seems to trump whatever gameplay lies underneath: the charm. Like their eShop debut Mutant Mudds, the puzzler Bomb Monkey features a glorious harmony of chiptune music, pixelated graphics, and bright colors that makes the experience gel. The gameplay isn't nearly as robust as their previous effort, but Bomb Monkey excels in its narrowly focused puzzle experience.
The biggest knock against the game is its simple and limited gameplay. The game contains six separate modes, but they are all similar; no one offers more than a few tweaks on the basic mechanic of moving a monkey from left to right on the screen's top while dropping blocks and bombs to set up combos and clear the ever-scrolling board. However, in Bomb Monkey's case, the top of the screen is actually the side of the screen, as you control the game with the system held book-style, using the D-pad or touch screen to control the action. The input decision works well, though it'd be nice if menu interaction wasn't dependent on the touch screen. If you're looking for a puzzle game comparison, it's sort of like Wario's Woods meets Panic Bomber, if that means anything to you (ironically, it means nothing to designer Jools Watsham, who has never played either game).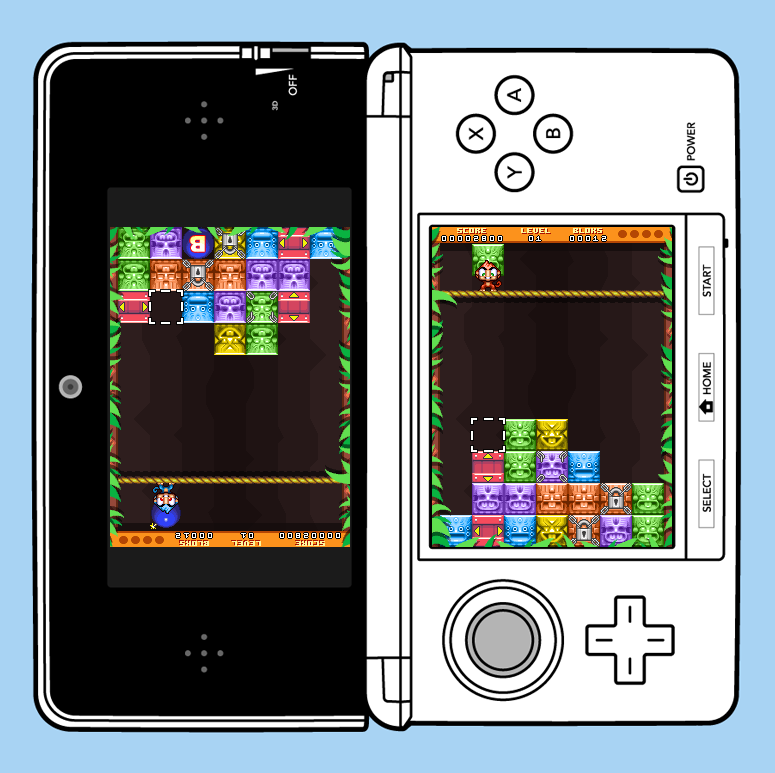 The biggest single-player mode is Endless, which woefully only retains your personal high score. There is no leaderboard, local or online. The other single-player modes (Three Minutes, Rescue, and Numbers) offer some variation, especially in the challenge of blowing up specific blocks in a certain order in Numbers, but they're focused and limited affairs that serve as only a momentary distraction from Endless mode.
Bomb Monkey's secret sauce comes in the form of its two-player modes, which have both a competitive and cooperative mode. Two players play on one system, with one using the bottom screen and the D-pad, and the other the top screen and the face buttons. The system gets cramped with two people huddled over it, but the game is addictive, and the best one-system multiplayer game since Photo Dojo.
A no-frills presentation makes Bomb Monkey feel limited, but the puzzle gameplay is sound and the two-player mode is something that could kill friendships. If retro-style puzzle games are your bag, then be sure to get your block-bombing on in Renegade Kid's latest.