Where AR games go to die.
Let's get this out of the way right now: Spirit Camera, though it claims to be a spin-off of the effective Fatal Frame games, is actually just an AR game. In fact, you can't play Spirit Camera if you don't have the required "Cursed Memoir" booklet right next to you. Because you often have to get up and move around, you can't play Spirit Camera on a plane, in the car, in the break room, or on the throne. You also can't play the game in less-than-ideal lighting conditions. Soft lighting (which tints the camera yellow) means the camera won't recognize the booklet's AR images. Natural lighting during the day was the most effective for me. However, this is a fairly sizable barrier to entry on a portable system. It's possible this sensitivity problem is unique to my house and/or latitude, though. But even with all the preparation, Spirit Camera doesn't manage to be a very good game.
You can play the main storyline (which is titled "Fatal Frame"), play some quirky AR games, or just replay the mini-games and battles from the story mode by themselves. None of these are particularly exciting. The storyline concerns the series' eponymous Camera Obscura, which allows users to see ghosts, and the Cursed Memoir, in which spirits are trapped by an evil "Woman in Black" (who's actually in white). If you get trapped in the Cursed Memoir and try to escape, she'll take your face. It's predictable J-horror fare. The first thing you do is rescue a spirit named Maya, an amnesiac who then appears as an AR character in your house. You'll spend way too much time talking to Maya, who is woefully unhelpful.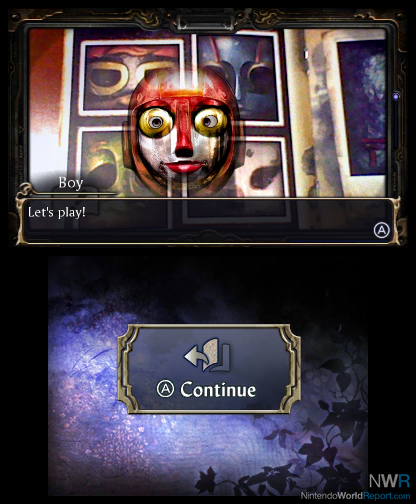 Eventually, the game will prompt you to look at the page the camera responds to. This involves finding the right page (you'll know when you have) and lining up two circles to make the AR event appear. This activity will typically lead to a ghost battle. The ghost escapes from the book and appears in your house (as an AR character). You use the Camera Obscura to attack it, just like in the Fatal Frame games. Keep the ghost in the frame, let the power meter build, and then snap a shot when the shutter turns red. You can also block attacks by snapping a picture just before the attack hits. Ghost fights are semi-engaging, requiring you to move around to track the ghost. Some ghosts stumble around like drunken college students, so you have to keep an eye on them. Timing can be tricky, too. Fights are by far the best aspect of this game.
Otherwise, you'll be solving riddles and playing mini-games, none of which are fun. And most of them require you to stare right at the damn Cursed Memoir, so bad lighting or positioning mars the experience. The story itself isn't engaging. Questions keep piling up without answers, you keep finding spirits in the book, and then eventually you'll likely stop caring. The storyline isn't even that long, but at a certain point, I just lost all interest. When the plot does wrap up, it's infuriatingly stupid. The explanation for the connection between Maya and the Woman in Black makes no sense.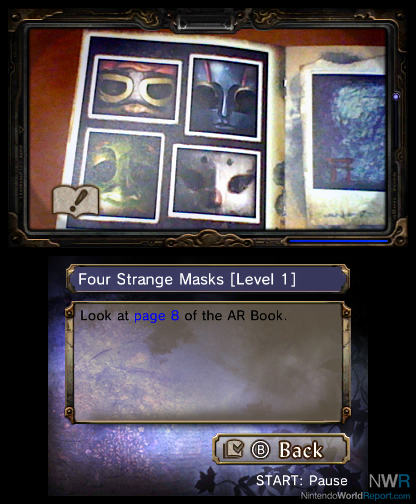 You can replay the fights and puzzles that you've already encountered from the main menu (lord knows why you'd want to) and mess with some silly AR apps, one of which basically tells you your ghost fortune—but you'll still need that damn Cursed Memoir from time to time. Other camera apps are more forced, like taking a picture and "oh look, there's a ghost in it." It's not subtle enough to be creepy, and just comes off as gimmicky. Hell, this entire game is gimmicky. I should mention that beating the storyline opens up a harder version of the story (ghosts do more damage and have different attack patterns). Through more blood, sweat, and tears than I care to expend, you can unlock a Princess Peach costume for Maya—but not in-game, only when taking a photo of her AR model.
If Spirit Camera wasn't so tied to the AR booklet, the experience might be a little better, but the inherent problems with the 3DS' camera sensitivity and being tied to the booklet really drags the game down. Add to that a boring storyline and uninspired puzzles and you're left with a pretty worthless experience. No real reason to pick up this ghost story, folks. The AR games that came with your 3DS are better.