Turn your 3DS into a Wacom tablet.
I've never been much for art programs on the DS or 3DS. Granted, I didn't try very many of them. The most I got out of the DS was FlipNote Studio (which, despite its flaws, is wonderful) and PictoChat. On the 3DS, we have SwapNote, in which I drew ham-fisted pictures of dinosaur heads for all my friends. Well, just the other day I received a review copy of Colors! 3D, a new 3DS art app up now on the eShop. As you can well imagine, I was hesitant, but upon playing around with it for a while, I'm a believer. You can create truly wonderful pieces of art with Colors! 3D.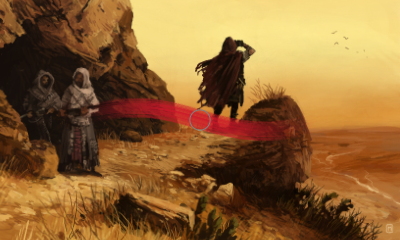 The game is basically a simplified version of Corel or even Photoshop Elements: you pick a color (from an enormous selection of gradations), pick a line thickness, pick a brush type, and an opaqueness setting and go to it. Tapping the R button brings up your artist tools whenever you want to change or experiment. There are a few other options, too: you can reset the canvas, undo actions (this is a godsend), zoom in, start from a photo, etc. Starting with a photo is more fun than you might think—I took a photo of my Wonder Woman figure and gave her an alternate color scheme. Now she looks like Donna Troy!
The real draw, though (see what I did there?) is that the app allows five separate layers. FlipNote only allowed two. For those unfamiliar with layering, it's a term used in digital painting where each element of a picture sits on its own layer, allowing you to tinker with one and not worry about screwing up the others. In Colors! 3D, you switch between layers with the Circle Pad. As I recently discovered, you can also make upper layers transparent so you can work on individual back layers! This is excellent. So, I created a painting of Late Cretaceous Mongolia where the sky and one set of sand dunes were in back, another layer of dunes was in front of that, then a series of stone cliffs, and finally, two layers of pterosaurs flying by. What's even better is that, because this is the 3DS, each layer you create is an actual layer in 3D space!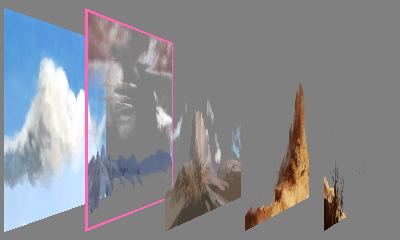 Once you've created your digital masterpiece, you can share it with the Colors! 3D community by signing up via the app's interface (very simple) and uploading your paintings. From there, you can browse others' paintings and comment on them—I found a particularly beautiful painting based on the game Journey. An especially cool feature is that you can actually press "play" and watch the painter make his or her painting. You can even stop playback at a certain point and basically start a new painting from there! And if you have a friend in the room with you, you can both share a single painting project. This is SwapNote for artists. I highly recommend this app, and I think it will develop a big following among the 3DS artists out there.