Is Konami's second 3DS soccer outing a worthy update?
Last April I reviewed Pro Evolution Soccer 2011 3D, a launch title for the new Nintendo 3DS. I came to the conclusion that, despite its flaws, it was a good game of soccer, and one of the better titles in a relatively weak launch lineup. Now, nearly a year later, Konami has released a new entry in the series for 2012. Did they improve upon the solid base they had?
The meat of the on-field gameplay in Pro Evolution Soccer 2012 3D remains mostly unchanged from last year's version, which is just fine because it was one of the strongest aspects in that game. The controls offer a lot of depth, and at the higher difficulty levels a mastery of these complex maneuvers is necessary if you want to maintain possession of the ball. Lower the difficulty, however, and the game is perfectly playable with simple passing and shooting.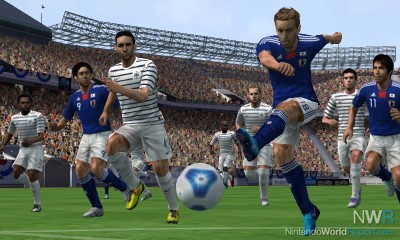 The difficulty issues I ran into in last year's game can still be found here, but to a lesser degree. There's a bit more of a curve here, and I was better able to find a difficulty level that provided a challenge without being overwhelming. Another problem I had with the 2011 version, the frequency of instant replays, has sadly not been addressed. Pressing Start will skip them, but I'd much rather be able to universally make them pop up less frequently, or not at all.
One major improvement in the 2012 version is in the various gameplay modes. The Master League mode, similar to Franchise or Dynasty mode in other sports games, returns from last year, but with a vastly improved interface. What was confusing and clunky in 2011 is now much cleaner, easier to read and understand. Managing a team over the course of many years offers a lot of depth and provides a great challenge.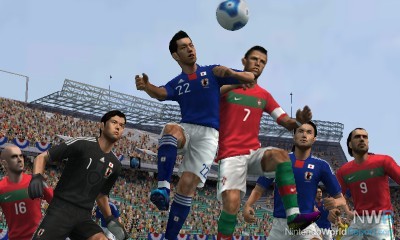 New to this year's game are Become a Legend mode and World Player mode. Each of these modes has you controlling a single player, either created by you in the former or chosen from one of the included teams in the latter, over the course of a career. These modes are great, except for one major flaw: when your player gets taken out of the game for a substitution, which is out of your control, there's no way to skip to the end of the match. You have to sit there and watch the rest of it, which just about ruins the mode.
Another major addition to this year's game is the inclusion of online play. Unfortunately, I was unable to really try it, as I ran into a lot of connection errors, and the few times I actually made it into a match it disconnected after a couple minutes. What's there seems very good, with friend and random matches, and a system for matching you with someone of your same skill level, so if you can get it to work it seems like a great way to play.
Pro Evolution Soccer 2012 is a better version of last year's game. It fixes some of the flaws in the previous version, and adds new modes on top of it. This is what you should expect from an annualized sports game, and while it introduces some problems of its own, it offers a solid soccer experience for the 3DS.