Unfortunately not a hole in one, but a birdie is good too, right?
Shin'en Multimedia has a long history on Nintendo systems, from their humble beginnings on the Game Boy Advance and Nintendo DS to their more recent work on WiiWare and 3DS. Their first eShop game is Fun! Fun! Minigolf TOUCH! How does it fair? Well, it certainly is well made, but it is not the most refined product the Nintendo eShop has to offer.
For starters, Fun! Fun! Minigolf TOUCH! is not a completely original title. There is a WiiWare version with roughly the same name, except for the TOUCH part of course, released all the way back in 2008. It marked Shin'en's debut on Nintendo's download systems, but it was certainly lesser known than the titles that were made later on. Both games share the same courses, which are spread over three regions (America, Asia, and Europe). The eShop version adds three difficulty settings in the form of cups, though. Each difficulty introduces a few hurdles to mix things up a bit, though the course are always the same, which is disappointing. It would have been more fun to have some new courses in there, but it is hard to complain about the overall quality of them.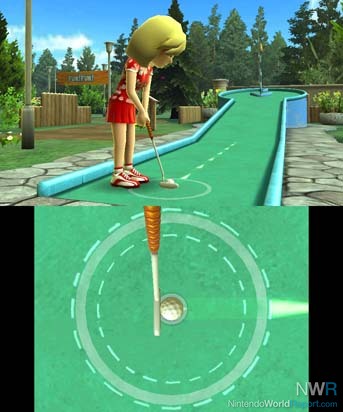 You won't have access to the cups right from the get go, however. Instead, you have to buy them from an in-game store with coins you earn for finishing regions and cups, and performing well on each course on its own. There are also quite a few other goodies that you can get including Trick Shot challenges, which are entirely new to the game. In these challenges, you try to pick up as many coins as you can and try to hit all sides of the field for a high multiplier. They don't stay fun for very long, but they are a nice distraction nonetheless. Beyond this, there is no multiplayer like the WiiWare original or any further goals to accomplish. It is quite fun to go back and beat some records, but it won't keep you going forever. I saw everything the game had to offer in roughly five hours.
As per usual with Shin'en games, the gameplay is pretty solid. Players try to hit the ball into the hole while avoiding obstacles and barriers. This proves quite a difficult feat, as the in-bounds areas are quite small, leaving little room for error. You won't get punished too much though, with only your current swing lost in the process. The real punishment comes with how relentless the amount of par swings can be. With a single mistake, you could easily end up with a bogey and that is never fun. In the end though, it makes it more rewarding if you do succeed in breaking a par record. Nothing beats scoring an albatross on Par 5 course.
Controls wise, you have two different options to choose from. First, there is a button control option in which you use the Circle Pad to alter the direction and use the A button in the golf genre-staple power gauge. With the touch controls, you wheel your character around through a dedicated circle on the bottom screen and then drag the club to determine the power of your swing. Both control schemes work pretty well and it boils down to which you prefer. Personally I am a fan of the button controls, as I can kick back and relax.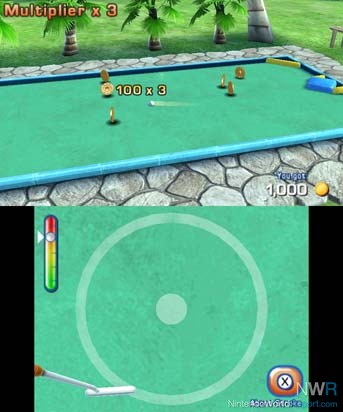 The soundtrack has a really upbeat feel to it, although the amount of tracks seems to be a bit limited. It didn't bother me too much however, since I really liked the tunes and never felt annoyed by any of it. As far as the visuals go, the game has a very vibrant and warm look to it. Fun! Fun! Minigolf TOUCH! isn't the sharpest game around and the 3D effect might not engage you further into the gameplay, but it certainly does its job to make it a charming affaire. The character models for the Miis, which are completely customizable by the way, look a bit freaky though.
Fun! Fun! Minigolf TOUCH! is certainly not the best game on the Nintendo eShop, but there is certainly a lot to like. The cups and its regions will last you a good solid couple of hours; it controls well and improves what was great of the WiiWare original. It is a big shame that there is no multiplayer in any way, shape, or form. The package doesn't feature a wealth of new content, so players of the original might want to think twice about it before purchasing. Players that decide to give it a go, however, will have a good and challenging time.