Somebody poisoned the waterhole.
The setup for Dillon's Rolling Western is novel. Dillon is an armadillo, equipped with some Sonic the Hedgehog-esque spin attacks, who explores wonderful-looking western environments to prepare for an oncoming onslaught of rock monsters in order to protect a village's supply of pigs. The dialog is pure campy and quirky fun, with interesting looking characters and humorous western accents. The music and sound design is also fun, with some memorable musical bits. Even the touch screen controls, which require you to use your left hand to control the Circle Pad and your right hand to use the stylus (it's not perfect for lefties, but it doesn't require precise movement on the touch screen, so it works albeit a bit uncomfortably), are fine, offering a new twist on player controls.
However, in a short amount of time, Dillon's Rolling Western pulls off a bait and switch that only Brutal Legend managed to a more incendiary degree. Double Fine's 2009 Xbox 360/PlayStation 3 title appeared to be a fantastical third-person action game at first blush, but a few hours in it turned out to be a third-person real-time strategy game. Rolling Western lays groundwork for a fun third-person action game, only to pull the rug out quickly and become a peculiar tower defense game. At least Rolling Western is upfront about that fact in its promotion.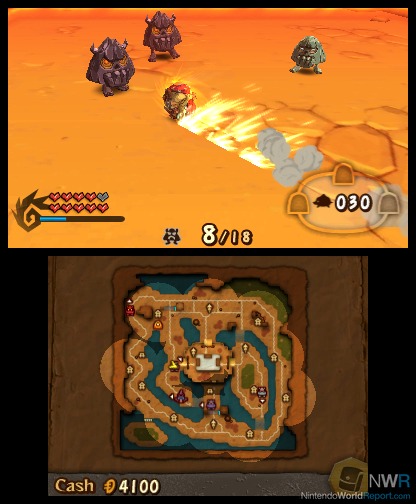 The issue with the tower defense mechanics is that the game's primary means of progression is just a new map and more (not new) enemies. The maps do get increasingly complex and interesting, but with each area consisting of three 10-15 minute sections, they almost all overstay their welcome. Once you set up your towers, it's all about routine maintenance, which is done in the preparatory phase of each section. This tower defense trope is especially frustrating on the first play through, because the game limits the amount of money you can bring with you initially. Not only do you have to arduously travel around the map, doing the video game equivalent of chores, you're extremely limited when you do so.
The enemies, mostly rock monsters that the game refers to as Grocks, furiously come at you when the preparation period is over. The issue with this is that as you progress, the number of enemies reaches ridiculous amounts. The way these segments work is that enemies come out of dens that are marked on the map. To defeat them, you either need to set up a gun tower to shoot them down, or roll into them yourself and enter a small battle arena where you roll to defeat smaller versions of the enemies. The problem is that the other enemies still move while you're in this arena. It opens up your towers and village to attack from the countless other enemies, especially when these fights involve boss monsters that take a good chunk of time to defeat. It's frustrating that because of the initial limited funds, you're basically doomed to encounter heavy losses unless you're absolutely flawless when you first play through the game.
The game offers a star rating for each stage, which in turn helps you unlock more stages. Unfortunately, outside of improving your star rating and earning more money, there isn't much of a reason to replay stages. For the sake of this review, I had to force myself to replay earlier stages because I had no will to do so otherwise. It's just not a rewarding experience, though the game does get easier and less frustrating when you go back to earlier stages because you don't have limited funds.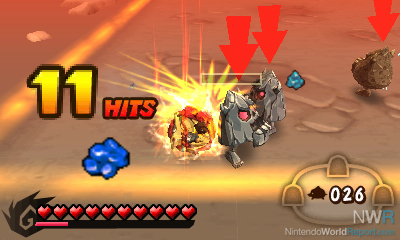 On the off chance you do enjoy the game, there is a lot of it. Even if you don't replay stages, a straight run-through of the game will take you close to 10 hours. If you try to five-star every stage, you'll be at it even longer. Each of Dillon's abilities and weapons are upgradeable, which is a nice RPG-like addition, as his rolling-based attacks receive a significant boost as you progress through the game. It doesn't salvage the repetition, though.
Dillon's Rolling Western is an interesting take on the tower defense genre, but it's just too scattered and plodding to be that entertaining. The look of the world and the characters are charming, but the gameplay is just dreary and repetitive. While the 3DS had an impressive run of great eShop games, it appears that the well has dried up in this desert-ridden title.