A Mario game perfectly suited for portables.
Nintendo's EAD Tokyo studio, who made Donkey Kong: Jungle Beat and the two Super Mario Galaxy games, never worked on a portable before making Super Mario 3D Land. Fortunately, they have some sort of innate knowledge of how to make a portable video game, as they created a game that doesn't only excel at being a great Mario game, but also at being an amazing portable game.
The levels in Super Mario 3D Land, which are an interesting mix of side-scrolling and 3D exploration, are bite-sized. If you wanted to, you could probably blow through most levels very quickly, especially if you keep the rejuvenated Tanooki power-up. Even if you do take your time to explore and find the delightfully well-hidden star coins, each level is only about five minutes long. It succeeds at being a game that you can quickly play a level or two of when you've got some time to kill.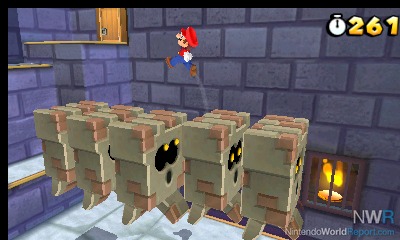 Most of the game's levels have the same feel as Galaxy, though they're slightly more down to earth (literally). A lot of the Galaxy tropes show up here, but are melded heavily with traditional Mario roots. For example, there are flagpoles at the end of each level, and small Mario is a thing. While it is intriguing, the experience is quite different in a good way.
What's kind of weird are the controls. The game sort of controls like a 2D Mario game in 3D space, especially since you hold a button down to run, something you never did in analog control Mario titles. Wall jumps are around, but oddly, backflips can only be pulled off when moving, which makes some of the finer platforming more difficult. Regardless, after you learn the rules, the controls work. Outside of some depth of field issues, the controls never failed me.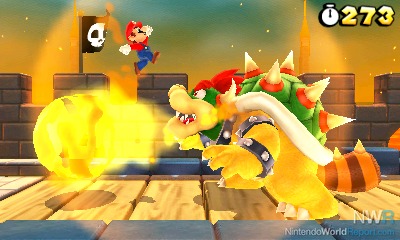 The 3D effects in the game look fantastic, and usually aided me in my quest. However, there were a few times where I felt the 3D effect betrayed me, as I had immense difficulty judging distances. This could be because I wasn't quite used to the 3D, but since there isn't another game like this, it might be a common issue for players.
Super Mario 3D Land is packed with content, with eight primary worlds containing five or six levels each (in addition to a healthy amount of bonus levels). The boss battles, featured at the conclusion of each world, vary from fun to repetitive and lame. The best are the Bowser-focused ones that feature platforming instead of direct boss interaction. On the whole, the available power-ups are great and empowering, with the exception of the propeller block, which makes for a cool 3D effect but lackluster gameplay.
EAD Tokyo's 3DS debut is marvelous, and filled with almost endless creativity. The control and graphical quirks are a little off-putting, but more because we're so accustomed to 3D and side-scrolling Mario being separate things. Super Mario 3D Land combines the two, and it works well. If you own a 3DS, you should likely get this game. It'll last you a long time, and it's a great new Mario game.