This retro revival is just a hop, skip, and a jump away.
There seems to be one constant in life, and that is Konami's attempts to revive Frogger, the legendary arcade title, every year or so. Most of these spin-offs and sequels have been unmemorable, so it is a tall order for the latest iteration, Frogger 3D on Nintendo 3DS, to pick up the brand cache and create something unique and fun. In some ways the tall order is delivered upon, but the whole package falls just a bit short.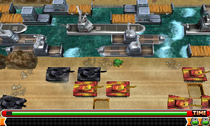 If there's one thing you can't accuse Frogger 3D of, it's for being a lean package. The main single-player game contains six worlds containing a grand total of sixty stages. There is also a mode called Forever Crossing that plays identically to the arcade version of Frogger, but with an endless board. There are achievements that unlock bonus modes and concept art. If you play long enough, you eventually unlock a Challenge mode. On top of all of that, there is a multiplayer mode supporting up to four players in wireless play. The game only supports multi-card multiplayer, so everyone will need to have a copy of Frogger 3D. Unfortunately, I was unable to test the multiplayer mode of Frogger 3D, so this review will only cover the content available in the single-player section of the game.
The main campaign mode consists of sixty stages, most of which follow a similar pattern. Each stage consists of three playthroughs where the exit moves around. After you play through the stage and reach the first exit, coins are placed throughout the stage and the exit moves to a new location. Complete the level a second time, while picking up as many of the coins as you can, and the game moves the exit one more time and places more coins in the stage. As a result, the main stages in the campaign begin to outstay their welcome after awhile. It's not that the game controls or looks badly, it just gets boring long before it should. On top of that, the game becomes quite difficult early on. By the end of the second world, I was having to replay stages quite a few times before I was able to move past them.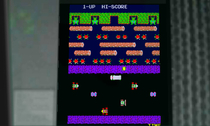 If you are itching for the taste of a classic game of Frogger, the Forever Crossing mode scratches that itch nicely. It's merely a never-ending game of arcade-style Frogger completely with retro graphics. The game saves ghosts of your playthrough attempts, automatically saving your most successful runs up the board. You can compete against your own high score, or use StreetPass to trade your ghosts with others and compete against them instead. There is a high score board, but I was unable to tell if it was comparing my score to my friends online or locally – I was the only name on my board.
The game has more polish than I was expecting for a Frogger game, but that's only clearing a fairly modest bar. The game looks okay, with a decent frame rate and lots of colorful scenery. The models are blocky and the textures are blurry, but the overall presentation is good. You first reach the main menu by completing a classic Frogger board, after which Frogger himself leaps from the screen and the world comes alive. The music is also decent, probably more epic sounding than a game of Frogger really deserves.
Frogger 3D is a decent package, and one that will likely appeal to fans of classic arcade style gameplay. It's not a perfect game, and one that will do itself favors by staying at a budget price, but it's easy to recommend to die-hard Frogger fans, or anyone else looking for a quick fix of fun on their 3DS.