The best of both worlds combined into one fabulous package.
To even begin to describe the Beatles phenomenon would require much more space than this review will take. The Beatles will forever go down as one of the greatest and most influential bands of all time. For me, The Beatles were one of the first bands I ever heard. Even though their music was before my time I grew up listening to all their songs. For Harmonix to go and create The Beatles: Rock Band, instead of just adding their songs as DLC, shows the importance The Beatles had and the impact they left on all of us. This game truly is a labor of love and Harmonix has done The Beatles video game right.
First and foremost, this is a Beatles video game featuring only Beatles music. You won't be seeing songs from other bands like Guitar Hero Aerosmith or Metallica. Instead all you get is Beatles and Beatles alone. Unless you enjoy their music this game might not be for you, but even for someone who's never heard of The Beatles before can fall in love with their music after just several plays. There are, after all, 45 songs on the disc, ranging all throughout their entire recording career, so there's bound to be a song for everyone. The Beatles: Rock Band is also a standalone game that unfortunately can't interact with the other iterations of Rock Band. That basically means that the content in this game and the upcoming downloadable content won't work with Rock Band 1 or 2 and visa versa.
For players that just want to jump right in, there's both an online and offline Quickplay mode that allow for cooperative or competitive play with the entire track list unlocked (minus the last song). The competitive multiplayer is just the typical modes found in Rock Band such as Tug of War and Score Duel. The slick, stylized interface brings players to the gameplay easily. Just like the normal Rock Band interface, players just choose their instruments, their song and difficulty and begin playing, making the whole process nice and simple. There's even an option in the instrument selection to turn on "no-fail" mode removing the inconvenience of having to navigate through the options menu.
While a majority of most people's time will be with Quickplay, the main focus is with the Story mode. This mode takes you throughout The Beatles' career, starting with their beginnings at the Cavern Club in Liverpool, England all the way to their final performance on top of Apple Corps. There's no accumulation of stars or fans to progress. All you have to do is beat several songs specific to the venue and time and you move on. You only have to play each song once, rather than the typical Rock Band formula of playing songs over and over. This allows players to fully enjoy each song without growing tired due to repetitive playing.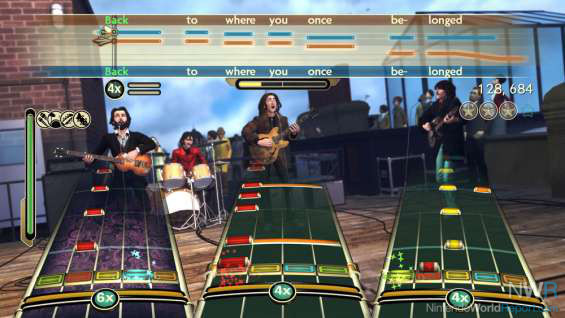 Each venue is stringed nicely with stylish cutscenes and prepares you for your next location. They provide images of the era The Beatles were experiencing. Apple Corps also provided additional images straight from the Apple Corps vault that can be unlocked throughout the Story mode. These photos chronicle The Beatles' history with each having a little blurb about itself. Not to mention, there's also six short videos to unlock. It's nice being able to hear the entire Beatles Christmas album in one of the videos which was only made available to members of the fan club. Also just about every song is included with audio before and after straight out of clips from announcers or studio recordings. There's nothing more exciting than hearing Paul count in before a song starts or for George to mess around on the guitar after a songs over.
All the songs have their own specific video accompanied with it that reflect the type of performance they would give at the time. Earlier songs such as "Eight Days a Week" and "Paperback Writer" feature a cheery tune with joyous Beatles and tons of screaming fans. The game even goes out to have the screaming drown out the music at times mimicking what would normally happen at a concert. The hud itself also adds to the whimsicalness with brightly colored notes and flowers flying everywhere. The mesh of music and art is unseen in any other game creating a very relaxing experience. You will actually notice the animations in the background more often than usual.
Halfway through their career The Beatles decided to stop touring and concentrate more on making albums at Abbey Road Studios. Watching visuals for songs performed in a studio would get tiresome so Harmonix created dreamscapes for each of these songs. These environments are custom-tailored for each song. Players are transported from the studio to a world filled with imagination. Being able to watching the Fab Four perform "Here Comes the Sun" on top of a hill with sun shining everywhere fully encapsulates the feeling one gets when listening to The Beatles. For "Yellow Submarine," the group performs underwater and for "Sgt. Pepper's Lonely Hearts Band," the band performs in a gazebo with flowers everywhere. These are just some of the amazing creative ideas that Harmonix had.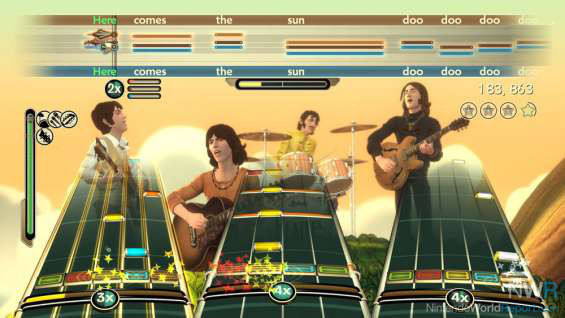 The gameplay is very similar to that seen in Rock Band 2. The drums, guitar, and bass all remain unchanged. One difference is the inability to create drum fills to activate the drum's star power. The fills are pre-determined this time around using the song's actual fills. This removes some of the creative freedom forcing you to play how The Beatles do. The biggest addition is the inclusion of vocal harmonies. Harmonix made an effort to include this feature due to the fact that The Beatles were well known for all their harmonies in a majority of their songs. Three players can each choose their own separate icon and up to three different lines can be displayed at any one point. You don't have to stick to one color allowing players to jump between parts. As long as each line is being sung players will still rack up points.
Vocal harmonies can be quite difficult so within the practice mode is a section to help players out. Alongside the vocal training is a drum trainer with beats to master entitled Beatle Beats. All 80 are straight from Ringo Starr's classic rhythms and are surprisingly difficult to master.
With the inclusion of harmonies, this allows for six people to play simultaneously. When gathering six people to play with though, there is a very noticeable drop in the framerate for the background video. Granted that so much is going on at once it would've been nice to see the same smoothness when playing with only one instrument. The graphics however are amazing and much better than that seen in Rock Band 2. Minus some lack of anti-aliasing it practically parallels the Xbox 360 and PS3 version. The use of the art style and pre-rendered videos paid off making the Wii version just as good as the rest.
Many fans have been longing to play the Beatles in Guitar Hero or Rock Band for quite some time now and Harmonix was able to deliver the right stuff. Granted that any game featuring The Beatles would automatically be a hit, Harmonix still went out to create an experience that belongs in the same vein as the band. The pure genius comes with the inclusion of vocal harmonies that create an even more authentic band experience. The artstyle and presentation also complement The Beatles greatly. At 59.99 it may be quite an investment (especially for a Wii game) but it most certainly is an investment well spent. Plus with the never ending list of potential Beatles songs to download, you'll be constantly coming back to play more. The Beatles are back and here to influence a whole new generation of people.