It's packed to the brim with content, it's awesome, and it's the worthy successor to Melee. But it's not perfect.
The Super Smash Bros. series is the ultimate in accessibility, lastability, and fan appeal. Since the release of Melee over six years ago, GameCube owners have been getting together with friends and beating the crap out of each other with an all-star lineup of Nintendo characters. The fact that Melee has been played for so long after its release is a testament to the series' solid gameplay and endless fun.
Despite several delays, the anticipation for Super Smash Bros. Brawl grew more and more as the game approached its release. Because the series has built up such a high reputation over the years, players' expectations for Brawl have reached dizzying heights. Needless to say, lead designer Masahiro Sakurai had to pull out all the stops to make Brawl a worthy successor of the Smash Bros. label.
Well, all of the hype, all of the expectations, and all of the excitement surrounding the release of this once-in-a-generation all-star brawler has been met. Nintendo fans and casual gamers will be playing and enjoying Super Smash Bros. Brawl for the next several years.
You're probably already playing Brawl because of the new goodies added to the multiplayer fighting that defines the series and makes it such a long-term enjoyable experience. I've already discussed, at great length, how I feel about the brawling action. Long story short, it's just as good as it was in Melee, made better by a host of new stages and the addition of the smash ball, though it's not entirely perfect.
Hands down, my favorite new thing about Brawl is its stages, which have been upgraded significantly for Brawl and are much more fun than those from Melee. Similar stages have enough differences so as to still feel unique. The levels pulled straight from Nintendo DS games—such as the frantic Pictochat stage—are some of my favorites. There is so much variety in the fighting locations that Melee's stages, some of which are included in Brawl, seem rather boring in comparison.
The key addition to Brawl's multiplayer fights, the smash ball, is brilliant. It creates interesting new strategies when it appears during a match because of how it floats around and must be broken open. The unpredictability of where it will go, and more importantly, who will get it, adds to the chaos that makes the game so great.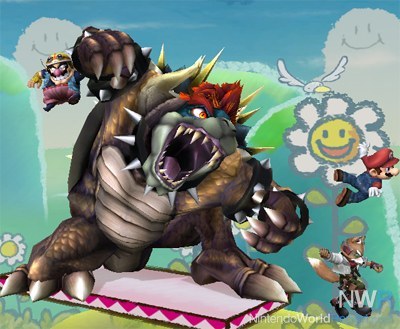 Yeah, this is as awesome as it looks.
Final smash attacks vary from character to character in damage potential and avoidability. Some of them are less effective on larger stages, where they are easier to dodge. However, since those very same moves are almost guaranteed to take out others on smaller stages, reduced effectiveness on larger stages isn't a deal-breaker. High-damage and instant-KO final smashes are almost always hard to successfully execute; landing one and sending your buddies flying off the stage will give you a big rush. The smash ball and final smash are very exciting additions to Brawl that will create cheers and screams louder than any of those you heard while playing Melee.
Another big upgrade for Brawl is the game's look. Characters are impressively detailed—all the more reason to pause the game and take snapshots of them up close. You'll also be impressed by the backgrounds, which are beautiful and dynamic. These pretty stages are a great, but they do create a minor problem.
Because the fighting action is more visually active than in Melee (even though it feels slower), it's very easy to lose track of your character in the middle of a fight. Despite the giant nameplate over your head, from time to time you'll simply lose sight of yourself amongst the game's very active backgrounds. I don't ever remember losing track of myself in Melee. The phenomenon isn't bad, but there will be a few times where it will cost you a life. Players will overcome this minor issue as they play the game more and get used to it, but still, something like that shouldn't happen at all.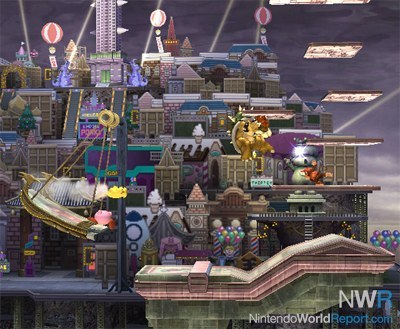 Try to find Diddy Kong without squinting. Now imagine trying to keep track of him during a game.
An issue that's more prevalent is the relatively disappointing character lineup. Even though the final list is 35 strong, the generic feel of some new characters and the gratuitous use of clones for others make the list feel a lot smaller than it looks. Although characters with similar move sets have their own unique nuances and fighting style, it's very difficult to not see characters like Fox, Falco, and Wolf as just Fox plus two clones.
The character roster isn't quite as balanced as it could be, too. The winged, multi-jump, lightweight class of Pit and Meta Knight, as well as the addition of Wario and Dedede to the super heavyweight class, expands the ends of the character variety scale quite well. However, the middle of the scale didn't get as much attention as it should have. I hate to bring up the Star Fox trio again, but their regular moves are noticeably more powerful than many other characters. They also all have the same final smash, which can (a little unfairly) get as many as five KOs in one shot.
That said, the character variety is still good enough so as to allow any character to beat any character given a level playing field. Plus, both new and veteran characters are different from those in Melee, so overall it's an upgrade from the GameCube game. Besides, Smash Bros. gameplay is so tried-and-true that you're going to enjoy playing the game no matter what.
If you ever tire of the 35 characters and 40 stages available to you in standard, four-player brawls, you can go it alone or with a friend in the game's new, expanded single-player mode, the Subspace Emissary. The Subspace Emissary is a story-driven adventure wherein players must fight off a mysterious enemy and uncover what's going on. Cut-scenes tell the story without dialog, and the very Kirby-esque platforming levels feature a variety of locales.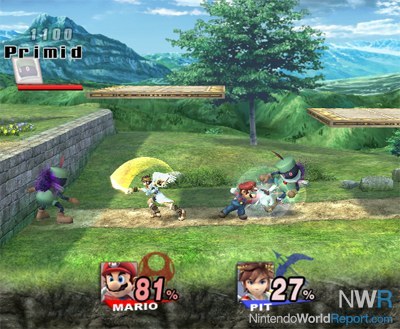 Subspace Emissary greatly expands the single player capabilities
of Super Smash Bros. Brawl.
Because the story involves the entire cast of characters, players will control just about all of them at some point in the ten-or-so hours it will take you to play through it. Different characters jump into the story at different points, often in ways that are a little too unbelievable. (Pikachu and Samus, together? Inconceivable!) Characters often travel in groups during the story and the number of "lives" you have per stage is dependent on how many characters remain from that group in a given part of the adventure. Losing a character will make the next appear in his or her place, based on the order selected at the start of the stage.
This sort of multi-character model works well in the world of Smash Bros., as every single character in the game shares the same basic controls. This is one of the biggest reasons why the game is so accessible. You only need to learn one very basic set of controller inputs to maneuver all the characters in the game. This encourages new players to explore the entire roster during multiplayer fights, making it easier to discover favorites.
The accessibility factor is even greater because of the insane controller customization options available. The game supports the three Wii controller schemes—Wii Remote and Nunchuk, Wii Classic controller, and Wii Remote only—as well as the GameCube controller. Anyone coming from Melee will be used to the GC controller and will be very comfortable playing Brawl with the same interface. For new players, the Wii Classic controller is the best option.
No matter which controller you use, you'll find that character movement, and its interaction with level design, is one of the Subspace Emissary's major shortcomings. In a traditional Mario platformer, the jumping and movement controls are very tight. They need to be for players to be able to make accurate jumps over distances. In contrast, jumping in Smash Bros., by design, is not as precise. In the spectrum of characters, movement is also often sluggish.
You don't notice this during multiplayer brawls because basic movement is confined to a relatively small area and is just a part of general combat. But when applying the mechanics to a traditional platformer, where jumping is the focus, things don't work as well. For those times when you need to jump in a hurry, the game isn't completely willing to comply with your request, particularly while on a moving platform. At times it can get as frustrating as navigating the nefarious vertical-scrolling multiplayer stages, such as Icicle Mountain in Melee and DK Jungle Climber in Brawl.
This is a relatively small gripe in the face of such a large-scale single player game. It doesn't smother all enjoyment from the mode, but you'll wish the engine were better optimized for Subspace Emissary. It is still impressive, however, that the multiplayer engine can provide a pretty good single player game with no grand alterations. The story cut scenes are also pretty epic. Subspace Emissary is totally worth the ride, and helps bring the game's single-player mode closer to the level of its ridiculous multiplayer feature set.
Of course, there's so much more to do outside of the main game modes. Favorites like Event Match, Home Run Contest, Break the Targets, Multi-Man Brawl, and All-Star mode are addicting individual challenges, with high scores and best times to improve on the simplest of tasks. Each mode has refinements and additions, including two-player co-op, to make them better than they were in Melee.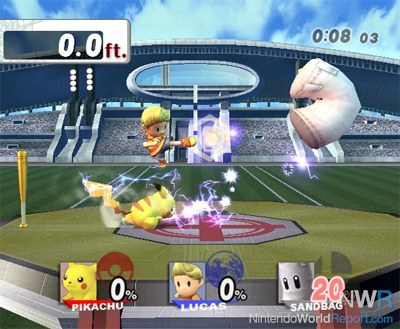 Home Run Contest is way too addicting with two players
going at it at the same time.
Brawl's stage builder enables players to make arenas for brawls. The stages can be of different sizes and can be filled with a variety of platforms and objects. Although the available pieces are simple, there are infinite possibilities. You can send you stages to friends via the Wii Message Board and submit them to Nintendo for wider distribution.
Should you elect to send the stage to Nintendo, you may see it automatically downloaded to your Wii as the stage of the day. As long as your keep WiiConnect24 activated, a new custom stage will be delivered to your console on a daily basis. You can't save these stages, which is kind of a bummer, but since it's really easy to make your own you can just go into the stage editor and make some else's ideas your own.
The daily stage is just one of Brawl's online features. Far bigger is the ability to play online matches against anyone in the world. Actually, that's not quite accurate: you can only play against people that are near enough to you to allow for a low-lag match-up. You can play with your friends, wherever they may be in the world, but you can forget about a smooth match with anyone more than two timezones away. During poor connections, controller lag can grow to over half a second.
Random online matches are completely anonymous, meaning that you will have absolutely no way of identifying, contacting, or otherwise communicating with your opponents, and no way to add them to your friends list. There aren't any online records or leader boards, either.
While this may sound bad to a lot of people, it actually might be best for the game in the long run. Without a hill to climb or a way to identify superior players, there is little motivation for someone to cheat their way to the top of the charts. People with such ambitions can and have ruined the online experience for many people: just look at Metroid Prime Hunters and Mario Kart DS on Nintendo DS. If the lack of online statistics really gets you down, you can just go back to playing against three CPU opponents offline, which is a lot tougher in Brawl than it was in Melee.
With friends, the experience is much better. Not only can you adjust all of the settings during brawls with up to three friends on your list, you can do co-op Home Run Contest online, too. It's also possible to play online against friends with multiple players on the same console, something not possible during random matches. The only negatives, besides having to enter friend codes, is that you only have 64 spots on your Brawl friend code roster. Additionally, to be able to send pictures, replays, and custom stages to a friend, you must register his Wii friend code on top of his Brawl friend code.
Despite that, there is so much stuff to do in the game that you will actually forget about modes that you haven't touched in a while. You can wager coins in the online spectator mode, read trophy descriptions, browse the history of Nintendo's game releases, play Virtual Console game demos, listen to the game's gigantic soundtrack, and do at least a half-dozen other things that I can't remember at the moment. It is simply mind-boggling how much there is in this game.
Still, the little, nagging issues are persistent. There will be times when you will think "what if..." But they won't prevent you from enjoying Super Smash Bros. Brawl in all its glory. As the sequel to Melee, it had a hell of a lot to live up to. In most areas, it exceeded expectations. However, in the areas that matter, Brawl only feels like a moderate upgrade, and not a complete overhaul like some people would have liked. But if it isn't broken, why fix it? Brawl is more than worthy enough to carry the Smash Bros. name into the current generation. The core gameplay has remained largely unchanged since the N64 days, meaning we've essentially been playing the same game for nine years, and we'll be playing the same game for another five or six years, at least. Get it, appreciate it, and enjoy it.