There aren't many drive-ins left, but they're more common than 3DS games at this point.
If there is one thing that Atlus is good at, it's being on systems well past their theoretical expiration date. Persona 3 and 4 both came out on the PlayStation 2 following the release of the PS3, and the copy of Persona 5 I have access to now is itself playable on PS3. With Persona Q2, Atlus is keeping the tradition alive, and so far it's definitely worth making sure your 3DS battery is healthy.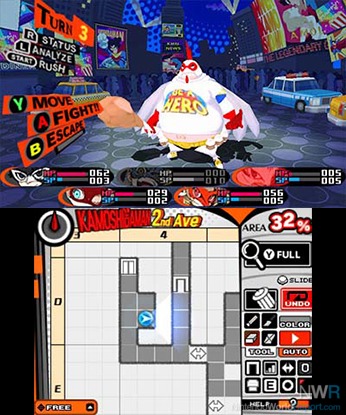 Syrenne McNulty reviewed the game for NWR around the 2018 holidays, but if you missed it Persona Q2 is a full-on dungeon crawler in the style of the Etrian Odyssey series. Unlike mainline Etrian's created characters, the Q games star characters from the four modern Persona universes (console and portable 3—yes, there is a difference—4 Golden, and 5). In Q2, you begin with the cast of Persona 5 including Joker and, unfortunately, one character who I preferred to staple-gun to the bench at the first opportunity. Each character has a main Persona that suggests a role for them to play, with the opportunity to unlock "sub-Personas" coming quickly and allowing them to supplement their roles while boosting their stats in battle as well. Character unlocks follow soon after; I pretty much had a final team early into the second labyrinth.
The original Persona Q supported a lot of forgotten 3DS features when it launched in 2014, and surprisingly all of that support has been brought forward to the sequel. As with a game on this engine, it's possible to draw maps to get through the dungeon, with one chest per floor of the labyrinth that opens on 100% completion of that floor's map. It's possible to unlock the chest early, if you're willing to pony up Play Coins. There is even an option for StreetPassing a particularly powerful sub-Persona, and if I ever manage to find more than one player locally who passes Q2, I will be stunned. Syrenne also stated in her review that the soundtrack was amazing, and I will second this: the boss theme, FOE (ultra-powerful enemies who lurk the labyrinths) theme, and Persona 3 Portable's battle theme slap especially hard.
There's a couple of localization decisions I wasn't a fan of, though one of them is understandable. I get that spending for English voice work would probably be more trouble than it's worth; the Smash Bros announcer (who also is the voice of Joker) presumably had his price increase recently. I may not like it, but the option to adjust voices, music, and sound effect volume is present so you can crank those tunes if you prefer. The other is with the handling of Persona 4's genderfluid character Naoto: before they formally introduce themselves the game constantly uses descriptions that end in "Boy" when they speak. In the next cutscene, the cast of 5 (who are from several years in the future) immediately start treating and referring to Naoto as female. I visibly winced when that dialogue came up. It's not the worst thing Atlus has done in this regard so far this year (Catherine: Full Body, here's your sign), but Atlus USA was really put in a bind here, and it can come across badly.
Through two labyrinths of Persona Q2, we've got the feel of a good 3DS swan song. The music is some of the best on the system, the gameplay is perfectly suited, and the characters play off each other really well. I'm really looking forward to seeing what happens when the Portable protagonist meets her P3 counterpart and figuring out just what the hell is going on in that movie theater.
Persona Q2 launches on June 4, though some Amazon orders of the limited edition have already shipped. Did you get one? Let us know in the Talkback.