The world's (only?) multiplayer space narwhal game brings multiplayer nonsense to Wii U alongside the five-player Blastopus Mode.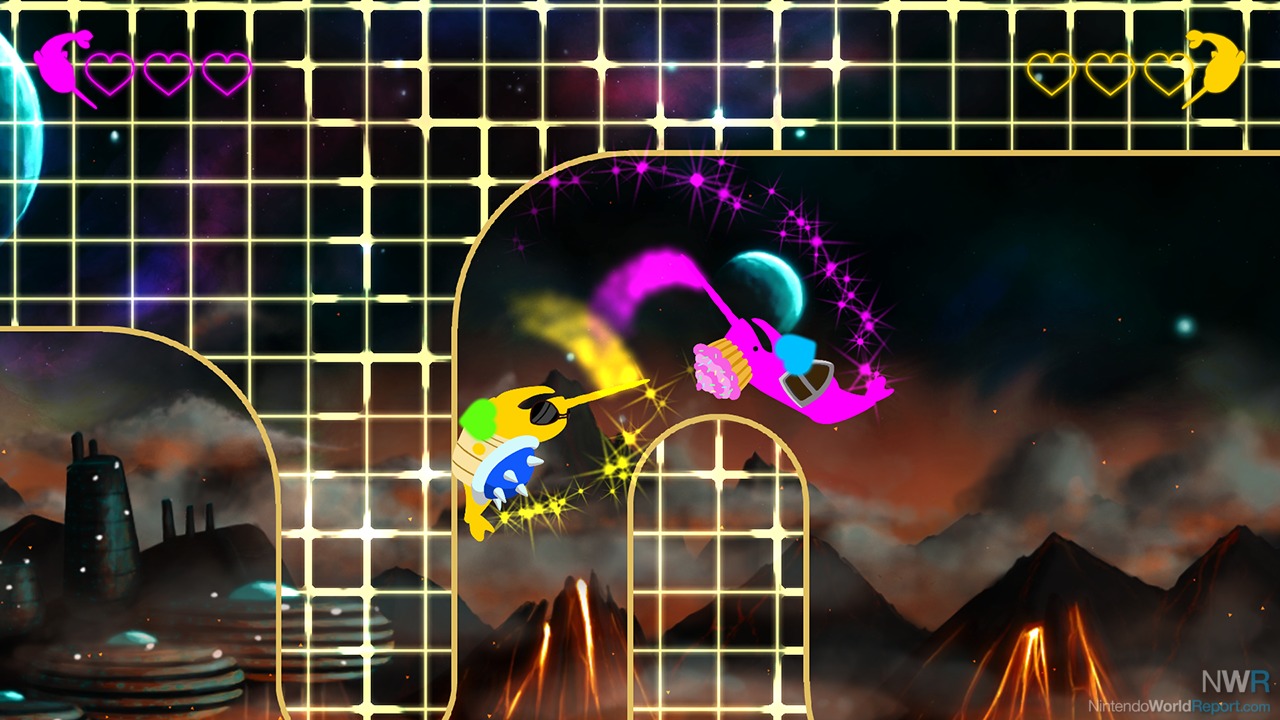 If you haven't heard of Starwhal, you should change that. It's a self-proclaimed "multiplayer space narwhal game" coming to Wii U later this summer from Canadian developer Breakfall. The goal of this multiplayer-focused experience is to guide your clumsy narwhal to use its tusk to stab the pulsating heart of your foes. On the Wii U, you can add in a fifth player on the GamePad who takes the role of the Blastopus, dropping bombs that the narwhals want to avoid, or if they're feeling fancy they can bat the bombs away to hit their fellow fish.
Starwhal on Wii U is a great fit, especially since you can use the GamePad, Wii Remote, and Pro Controller in any kind of combination for multiplayer. It's also a game with style for days, with a delightfully off-kilter space aesthetic. You can customize your narwhal in a variety of ways, with goofy costume themes including a Mario-inspired one, a Mega Man-inspired one, and my personal favorite - the seemingly impossible (to Ubisoft at least) female assassin.
The controls for Starwhal are seemingly deliberately difficult, as your character floats and spins through the air, controlled by just an analog stick/D-pad and a button. When I've played the game (on PS4), most multiplayer matches just wound up with my friends and me bursting into fits of laughter. It's a weird, quirky game that nails that mixture between insanity and strategy. You can totally flop through a match without any planning, but understanding how it all works can provide for some tactical play. Especially with the variety of stage layouts and designs, Starwhal offers a supremely amusing and dopey good time in multiplayer. In addition to the Wii U-exclusive five-player Blastopus mode, you can also mix it up in four other modes: Classic (last one standing), Score Attack, Zones, and Heart Throb (king of the hill).
In addition to the multiplayer, which is the clear focus, Starwhal also has a variety of single-player challenges. These task you with actually controlling the narwhals with precision, which is virtually the entire source of the difficulty. They are split into two categories: Obstacle and Target. Obstacle requires you to navigate with courses while avoiding walls and sometimes even lava. Target makes you hit a variety of targets in each stage as quickly as possible. Both are focused time trials where you try to do everything as quickly as possible.
Breakfall is almost done with the Wii U version of Starwhal. While they aren't announcing a firm release date, it should be out by the end of the summer, so you'll be able to go all stabby-stabby with your space narwhal friends in no time.