Shaping up to be a BERRY interesting platformer.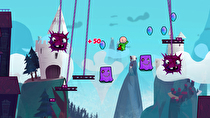 Cloudberry Kingdom is a platformer being released on Wii U on August 1 from developer Pwnee Studios. You play as Bob, a retired video game hero, who has to save the princess and stop the villian, Kobbler, from using a mystical Orb for his own evil purposes.
Dubbed an "endless platformer" by the developers, you must travel through various landscapes such as volcanoes, caves and frozen tundra in randomly generated levels. The team spent two years developing its own special algorithm to make sure that no two levels will ever be exactly the same. Each area has their own special hazards, including fire bars, spiked balls, laser beams, lava pits and more.
Not only is there a story mode, but special Free Play and Arcade modes are also present. In Free Play, nearly all aspects of the game are customizable, from the difficulty of the levels to the way your character looks and controls, the length of the levels, and much more. In Arcade, there are four different modes to choose from that put you in specific situations, such as giving you a power-up at the beginning of a level, seeing how long you can survive before losing all of your lives, and collecting as many coins as you can within a level to add to a timer. All the modes in Arcade have online leaderboards.
Cloudberry Kingdom is shaping up to be a very interesting (if not innovative) platformer. We will have a full review coming this week.