by Donald Theriault - 9:00 am PDT
Total comments: 1 Source: Nintendo
Let's get ready to rumble... portably.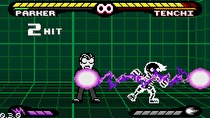 Pocket Rumble had to undergo some additional training, but it'll be ready to fight in a couple of weeks.
The tribute to NeoGeo Pocket Color fighting games has secured a July 5 release date for both North America and Europe, with Japan to follow at an unannounced date.
Developed by a two-man team at Cardboard Robot Games, Pocket Rumble was originally featured in a Nindies Showcase video prior to Switch launch.
Read more...