Wait, a Trails series we can get in on the ground floor on?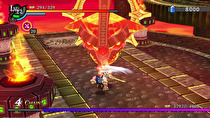 Things we missed last week: Well, we predicted the Direct which added NSO subscription incentive F-Zero 99, strategy title Wartales, racing sequel Horizon Chase 2, and rhythm shitpost Trombone Champ. The Archives title, added in the educational section of every prison ever, is Jail Break from Konami.
I spent most of the last week getting my tabletop on in Gloomhaven, but for my money the big game of the week is the first game of a new Legend of Heroes series in The Legend of Nayuta: Boundless Trails if only because it won't require me to win the national lottery in order to play it before the sequel comes out. The highest price tag of the week goes to Mortal Kombat 1, which is just as broken as fellow $70 game Tears of the Kingdom, but with MK1 everyone actually sees it.
Name of the week honors goes to Mon-Yu, or as it's officially called... deep breath "Mon-Yu: Defeat Monsters And Gain Strong Weapons And Armor. You May Be Defeated, But Don't Give Up. Become Stronger. I Believe There Will Be A Day When The Heroes Defeat The Devil King". And the Japanese name is longer. Smaller titles on the dock include a revival of... Operation Wolf? oooook.... alongside Days of Doom from Atari and the tasteful You Suck At Parking.
North America
Retail
Mortal Kombat 1 (US$69.99/C$89.99: Tuesday)
Mon-Yu ($49.99/$66.89)
Avatar The Last Airbender: Quest For Balance ($49.99/$49.99: Friday)
Gloomhaven: Mercenaries Edition ($39.99/$51.99: Monday)
The Legends of Nayuta: Boundless Trails ($39.99/$49.99: Tuesday)
Cry Babies Magic Tears: The Big Game ($39.99/$54.99: Friday)
Rainbow High: Runway Rush ($39.99/$49.99: Friday)
Digital
Telenet Shooting Collection ($44.99/$61.00)
Taisho x Alice: Heads & Tails ($34.99/$44.99)
Paperman: Adventure Delivered ($29.99/$39.99)
Days of Doom ($29.99/$38.99)
Operation Wolf Returns: First Mission ($29.99/$34.99)
Aireo Flight Simulator ($24.99/$34.99)
Livestream 2: Escape From Togaezuka Happy Place ($24.99/$32.5)
Ugly ($19.99/$26.99: Monday)
You Suck At Parking ($19.99/$25.00: Tuesday)
Evil Wizard ($19.99/$25.99)
Fragment's Note2+ ($19.99/$24.99)
Bud Spencer & Terence Hill: Slaps & Beans 2 ($19.99/$29.99: Friday)
Osyaberi! Horjiyo! Gekihori: Anna Holinski Saves The Universe, Alright? ($16.99/$21.99)
Final Exerion ($14.99/$20.40: Wednesday)
Haunted Zombie Slaughter 2 ($14.99/$20.99)
HammerHelm ($14.99/$19.99)
Warriors Of The Nile 2 ($14.99/$17.49)
Venatrix ($14.99/$20.00: Friday)
Shuyan Saga ($14.99/$18.89: Friday)
Whateverland ($14.99/$18.89: Friday)
Truck Drag Racing Legends Simulator ($13.99/$19.99: Sunday)
Airjet Fighter: Sky Dominators ($13.99/$19.99: Friday)
Bro Falls Deluxe ($12.99/$17.99)
Super Adventure Hand ($12.99/$16.99)
Construction Machine Simulator 2023 ($12.99/$19.99: Friday)
Samurai ($11.99/$16.99)
Raid on Taihoku ($10.99/$14.99)
Persha and the Magic Labyrinth -Arabian Nyaights- ($9.99/$12.99: Tuesday)
Sugar Tanks ($9.99/$14.99)
Pan-Dimensional Conga Combat ($9.99/$14.00)
Sudoku For Kids ($9.99/$13.62: Friday)
Magic Donut Adventure: Line Match 3 Puzzle ($9.99/$12.99)
Mermaid Castle 2 ($9.99/$12.99: Friday)
Evolings ($8.99/$11.99)
Amanda the Adventurer ($8.99/$11.79: Tuesday)
Battle Sea ($7.99/$10.99: Saturday)
Cyber Citizen Shockman 2: A New Menance ($5.99/$8.14: Friday)
ALTF4 ($5.99/$8.15)
Lost Crystals ($4.99/$6.79: Tuesday)
Rayland 2 ($4.99/$5.99: Wednesday)
Earthshine ($4.99/$6.64)
Retro Kart Rush ($4.99/$4.99)
Tick Tack Puppet ($4.99/not releasing)
The Crisis Zone ($4.99/$6.99: Friday)
Galaxy Battle ($4.99/$6.79: Friday)
Farm Land ($4.99/$6.49: Friday)
Playroom Racer ($4.00/$4.00: Friday)
Kind Heart Defenders ($3.99/$4.99)
Tough Law ($2.99/$2.99)
Crimson Song ($1.99/$2.99)
Crazy Bus ($0.99/$1.29: Saturday)
Puzzle Balls ($0.99/$1.29: Saturday)
Frag Pro Shooter (free to start)
Archives
Strike Gunner ($7.99/$9.87)
Sales and Price Drops
Highlights: A SquareEnix sale until Sept 26 includes a record 50% off Radical Dreamers. PSPrices, DekuDeals
Europe
Retail
Mortal Kombat 1 (€69.99/£59.99: Tuesday)
Avatar The Last Airbender: Quest For Balance (€49.99/£39.99: Friday)
Gloomhaven (€39.99/£35.99: Monday)
The Legends of Nayuta: Boundless Trails (€39.99/£35.99: Friday)
Cry Babies Magic Tears: The Big Game (€39.99/£34.99: Friday)
Rainbow High: Runway Rush (€39.99/£34.99: Friday)
Digital
Telenet Shooting Collection (€42.00/£37.79)
Taisho x Alice: Heads & Tails (€34.99/£31.49)
Days of Doom (€29.99/£26.99)
Operation Wolf Returns: First Mission (€29.99/£24.99)
Paperman: Adventure Delivered (€29.99/£24.99)
Aireo Flight Simulator (€24.99/£22.49)
Livestream 2: Escape From Togaezuka Happy Place (€24.99/£22.09)
You Suck At Parking (€19.99/£17.99: Tuesday)
Evil Wizard (€19.99/£17.99)
Fragment's Note2+ (€19.99/£17.99)
Bud Spencer & Terence Hill: Slaps & Beans 2 (€19.99/£17.99: Friday)
Ugly (€19.49/£17.59: Monday)
Haunted Zombie Slaughter 2 (€16.99/£14.99)
Osyaberi! Horjiyo! Gekihori: Anna Holinski Saves The Universe, Alright? (€16.99/£13.49)
Final Exerion (€14.99/£13.49: Wednesday)
HammerHelm (€14.99/£13.49)
Venatrix (€14.99/£13.49: Friday)
Whateverland (€14.99/£13.49: Friday)
Shuyam Saga (€14.99/£11.99: Friday)
Truck Drag Racing Legends Simulator (€13.99/£9.99: Sunday)
Airjet Fighter: Sky Dominators (€13.99/£13.99: Friday)
Super Adventure Hand (€12.99/£11.99)
Bro Falls Deluxe (€12.99/£11.69)
Construction Machine Simulator 2023 (€12.99/£11.99: Friday)
Warriors Of The Nile 2 (€12.49/£11.29)
Pan-Dimensional Conga Combat (€12.00/£9.99)
Samurai (€11.99/£11.99)
Slots Casino Game (€11.99/£11.99: Saturday)
Persha and the Magic Labyrinth -Arabian Nyaights- (€9.99/£9.49: Tuesday)
Sugar Tanks (€9.99/£9.99)
Magic Donut Adventure: Line Match 3 Puzzle (€9.99/£8.99)
Mermaid Castle 2 (€9.99/£8.99)
Raid on Taihoku (€9.99/£8.99)
Sudoku for Kids (€9.99/£8.99: Friday)
Evolings (€8.99/£7.49)
Amanda The Adventurer (€8.79/£7.89: Tuesday)
Battle Sea (€7.99/£7.19: Saturday)
ALTF4 (€5.99/£5.39: Wednesday)
Cyber Citizen Shockman 2: A New Menance (€5.99/£5.99)
Lost Crystals (€4.99/£4.49: Tuesday)
Rayland 2 (€4.99/£4.49: Wednesday)
Earthshine (€4.99/£4.49)
River Pirates (€4.99/£4.49)
Farm Land (€4.99/£4.49: Friday)
Galaxy Battle (€4.99/£4.49: Friday)
Playroom Racer (€4.00/£3.59)
The Crisis Zone (€3.99/£3.50: Friday)
Kind Heart Defenders (€3.49/£3.19)
Loot Box Quest: Mystic Maidens (€2.99/£2.99)
Crimson Song (€1.99/£1.79)
Tough Law (€1.44/£1.18)
Crazy Bus (€0.99/£0.99: Saturday)
Puzzle Balls (€0.99/£0.89: Saturday)
Frag Pro Shooter (free to start)
Archives
Strike Gunner (€6.99/£6.29)
Japan
Cry Babies Magic Tears: The Big Game (¥5870)
Livestream 2: Escape From Togaezuka Happy Place (¥3480)
Paperman: Adventure Delivery (¥3480)
Days of Doom (¥3400)
Fresh Start (¥2900)
Operation Wolf Returns: First Mission (¥2880)
Dogfight: A Sausage Bomber Story (¥2498)
Fragment's Note 2+ (¥2480)
Evil Wizard (¥2350)
Super Adventure Hand (¥1999)
Final Excellion (¥1980)
Probationary Girlfriend (¥1980)
Sugar Daddy Support (¥1980)
Bro Falls Deluxe (¥1899)
Alchemy Garden (¥1800)
Rose and Camellia Collection (¥1650)
Pan-Dimensional Conga Combat (¥1600)
Raid on Taihoku (¥1600)
Princess Bubble Story (¥1580)
Shuyan Saga (¥1540)
Warriors Of The Nile 2 (¥1520)
Sugar Tanks (¥1499)
Magic Donut Adventure: Line Match 3 Puzzle (¥1399)
Sakura Fox Adventure (¥1000)
Persha and the Magic Labyrinth -Arabian Nyaights- (¥990)
Triangle And X Quiz (¥980)
Cyber Citizen Shockman 2: A New Menance (¥880)
Strike Gunner (¥838)
ALTF4 (¥740)
The Crisis Zone (¥699)
Earthshine (¥660)
Rayland 2 (¥600)
Galaxy Battle (¥580)
Tick Tack Puppet (¥580)
Loot Box Quest: Mystic Maidens (¥500)
Kind Heart Defenders (¥470)
Murder Work Book (¥420)
What Does It Look Like? (¥420)
Which One Is Different (¥420)
Crimson Song (¥299)