Classic SNES F-ZERO racing meets last-person standing gameplay.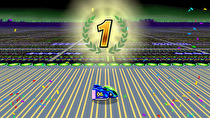 During this morning's Nintendo Direct presentation, the next 99-player online game was revealed as F-ZERO 99, featuring SNES-style visuals. The game is exclusive to Nintendo Switch Online members, and it sees new gameplay mechanics added to enhance the experience. These include a Power Meter that not only represents your health but also can be used to offer a temporary boost of speed. Collisions between cars will generate Super Sparks that can be collected to create a path to the Skyway, a special shortcut above the track that can give you the time and space to get ahead of the pack.
F-ZERO 99 is launching today on the Switch eShop, but you may want to enjoy it while it lasts. As we've seen with Pac-Man 99 and Super Mario Bros. 35, these types of online games don't seem to have an overly long shelf life.