At least the "No Side Order" sign only had to be tapped once.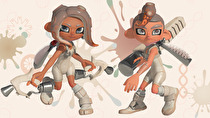 Two bits of outstanding DLC were discussed in today's Direct for two Switch megahits.
The Direct kicked off with the Splatoon 3 "Side Order" DLC, introducing a new character named "Acht" (the number 8 in German) and showing off some of the gameplay. Originally announced for a fall 2023 release, the second part of the Expansion Pass will now launch in spring 2024.
The final portion of the Mario Kart 8 Deluxe DLC was also shown with a returning course (Mario Kart Wii's Daisy Circuit) and the final four racers: Kongs Diddy and Funky, Pauline, and as one final bit of Mario Kart Tour preservation the notorious Peachette. It was reconfirmed for a holiday release.