Including some possible online play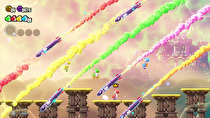 This weekend's Nintendo Live show in Seattle has shown more gameplay from Super Mario Bros. Wonder following this week's Direct.
The gameplay showed both single and multiplayer gameplay - including two and four player local-cop and some online methods being shown as part of the stage. The roughly 20 minute video can be found below:
Nintendo is also streaming tournaments at the Labor Day weekend event, although the Smash Bros Ultimate tourney was a team-based (Squad Strike) tourney.