Not quite Here and Now, but soon we can all be Superman.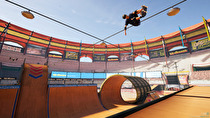 The summer will kick off with some Switch kickflips.
Tony Hawk's Pro Skater 1+2 will be launched on Switch June 25. The remakes of the two groundbreaking skateboarding games will include the content and most of the combined soundtrack.
Grab your board and #NintendoSwitch, and get ready to drop in to @TonyHawktheGame 1+2 on June 25th!

Skate through all the classic levels with some of your favorite pro skaters and a whole lot more.

🛹: https://t.co/H4HKkmgysa pic.twitter.com/WBUMpz7CDV

— Nintendo of America (@NintendoAmerica) May 5, 2021