I suppose that's TECHNICALLY a release date...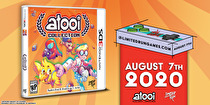 Limited Run Games will launch their first 3DS title for preorders next week.
Announced in their "E3" press event last year, the Atooi Collection - a physical collection of the two Mutant Mudds 3DS games, Bomb Monkey, Chicken Wiggle, and Xeodrifter - will finally go up for preorder next Friday. Unlike their Switch releases, this release will be for a fixed supply and launch in two waves. The first wave will go live at 10 a.m. ET, with the second at 6 p.m. ET, and this will be a North American region game.
A limited edition, containing alternate covers, a soundtrack collection, a sticker set, and a board game version of Mutant Mudds, will be made available at the same times. Pricing for the regular edition has not been disclosed, but the limited edition will be $69.99 US.
DISCLAIMER: Nintendo World Report Associate Editor and Talk Nintendo podcast host Perry Burkum is employed by Atooi, and was involved in the development of this release as well as the board game.
This story has been updated with the price of the limited edition.