Hope for a street date break on the Order of No Quarter Amiibo, while you're at it.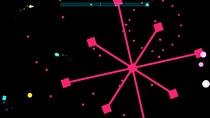 There's going to be a whole lot of rhythmic digging next week.
The long-anticipated Just Shapes and Beats "Just Shovels and Knights" update will be available on December 4. In addition to adding four new stages - one for Shovel Knight and each of the playable bosses in the expansions - the Shovel Knight stage will feature a brand new boss.
Amiibo support will also be added: tapping a Shovel Knight Amiibo (either regular or the bosses launching on the 10th) will permanently unlock their respective song. Up to five Amiibo can be tapped a day, and each tap will provide 100 "Beat Points".