Also known as "Yacht Club Freedom Day".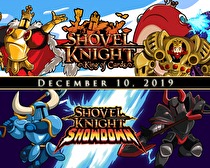 Everything Shovel Knight is three weeks away.
The latest blog post from Yacht Club Games have confirmed that the King of Cards expansion, Shovel Knight Showdown (Wii U and Switch only), the three Shovel Knight boss Amiibo, a golden Shovel Knight Amiibo, and the Switch physical version of Shovel Knight: Treasure Trove will all release on December 10.
The Showdown and King Knight paths are the final releases from the original 2013 Kickstarter campaign.