This week is brought to you by Longcat, Mudkip, and other internet memes.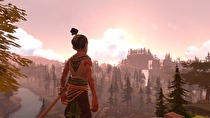 So we've got... four Five Nights at Freddy's games and a game from the writer of Rick and Morty? Is the internet booking this one?
And a Nyan Cat game, can't forget that. But yes, Trover Saves the Universe and four different Five Nights games are the big ones this week, though I could see the argument for Indie Showcase (RIP) star Pine or the delayed Decay of Logos.
I swear, I half expect a game about the CyberTruck soon.
Don't tempt them. I'm also intrigued by Electronic Super Joy, though... crap, there's a Family game. They just keep coming!
Anything interesting out of Japan?
The most expensive regular edition I've seen in a while, and a game about picking... you know what, let's just point out North America starts the Black Friday sales on Wednesday and be done with it.
North America
Switch Retail
Professional Farmer: American Dream (US$39.99/C$50.39)
Switch eShop
The Nightfall ($39.99/$50.39)
Trover Saves The Universe ($29.99/$37.79)
Monster Jam: Steel Titans ($29.99/$: Tuesday, THQ Nordic)
Kissed by the Baddest Bidder ($24.99/$29.99)
Pine ($24.99/$28.99: Tuesday)
Where The Water Tastes Like Wine ($19.99/$24.99: Friday)
Decay of Logos ($19.99/$24.99)
Electronic Super Joy ($15/$18.9)
Knowledge Trainer: Trivia ($14.99/$19.99)
Widget Satchel ($14.99/$18.99: Wednesday)
Real Heroes: Firefighter ($14.99/$18.89: Wednesday)
Story of a Gladiator ($10.99/$13.99: Wednesday)
Rescue Tale ($9.99/$12.59: Monday)
Nyan Cat: Lost in Space ($9.99/$12.59)
Skelittle: A Giant Party ($9.99/$12.59)
Deathtrap Dungeons Trilogy ($9.99/$12.59: Friday)
Gemstone Keeper ($8.99/$10.99: Wednesday)
Five Nights at Freddy's ($7.99/$9.99: Friday)
Five Nights at Freddy's 2 ($7.99/$9.99: Friday)
Five Nights at Freddy's 3 ($7.99/$9.99: Friday)
Five Nights at Freddy's 4 ($7.99/$9.99: Friday)
Family Tennis SP ($6.99/$8.81)
One Way Ticket ($6.99/$8.81)
Chameleon ($4.99/$6.29: Tuesday)
Amazing Brick Breaker ($4.99/$6.29)
Happy Animals Bowling ($4.99/$6.29: Friday)
Strike Force Kitty ($4.99/$5.99: Friday)
FoxyLand ($4.99/$5.99: Friday)
Switch Archives
Hyper Sports ($7.99/$9.87)
Sales and Price Drops
Highlights: Rocket League is 50% off until December 1, the Cyber Deals begin Wednesday. Spreadsheet
Europe
Switch Retail
Professional Farmer: American Dream (€39.99/£35.99)
Blacksad: Under The Skin (€39.99/£35.99)
Switch eShop
The Nightfall (€39.99/£35.99)
Trover Saves The Universe (€24.99/£22.49)
Monster Jam: Steel Titans (€29.99/£26.99: Tuesday, THQ Nordic)
Pine (€20.99/£19.49: Tuesday)
Where The Water Tastes Like Wine (€19.99/£17.99: Friday)
Decay of Logos (€19.99/£17.99)
Knowledge Trainer: Trivia (€14.99/£14.99)
Widget Satchel (€14.99/£13.49: Wednesday)
Real Heroes: Firefighter (€14.99/£13.49: Wednesday)
Electronic Super Joy (€14.99/£12.99)
G.R.E.E.N The Life Algorithim (€12.49/£10.99: Tuesday)
Story of a Gladiator (€9.99/£9.99: Wednesday)
Skelittle: A Giant Party (€9.99/£8.99)
Nyan Cat: Lost in Space (€9.99/£8.99)
Deathtrap Dungeons Trilogy (€8.89/£7.99: Friday)
The Mims Beginning (€7.99/£7.19: Sunday)
Gemstone Keeper (€7.49/£6.99: Wednesday)
Five Nights at Freddy's (€6.99/£6.29: Friday)
Five Nights at Freddy's 2 (€6.99/£6.29: Friday)
Five Nights at Freddy's 3 (€6.99/£6.29: Friday)
Five Nights at Freddy's 4 (€6.99/£6.29: Friday)
League of the Shield (€6.99/£6.29: Friday)
One Way Ticket (€5.99/£5.39)
FoxyLand (€4.99/£4.99: Friday)
Chameleon (€4.99/£4.49: Tuesday)
Amazing Brick Breaker (€4.99/£4.49)
Happy Animals Bowling (€4.99/£4.49: Friday)
Strike Force Kitty (€4.99/£4.49: Friday)
Switch Archives
Hyper Sports (€6.99/£6.29)
Japan
SD Gundam G Generation Cross Rays (¥9020)
Is It Wrong To Pick Up Girls In A Dungeon: Infinite Combat (¥7700)
Japanese Rail Sim 3D: Journey to Kyoto (¥7678)
Flowers Shiki (¥7300)
Kaminazo Mirai Karano Omoide (¥2480)
Suite Room de Itazurana Kiss (¥2480)
All Star Fruit Racing (¥2240)
Harvest Life (¥1980)
Mindball Play (¥1500)
Fantasy Zone (¥999)
Voxel Galaxy (¥850)
Hyper Sports (¥838)
Family Tennis SP (¥800)
One-way Ticket (¥750)
FoxyLand (¥500)