That is an awful lot of platforming.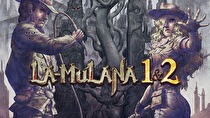 La Mulana 2 was announced for Switch around this time last year, and now we now it isn't coming alone.
Ahead of PAX West, NIS America have announced that they will be publishing both the original and 2 in one package in early 2020. They will be hosting a PAX panel tomorrow at 7 p.m. Eastern / 4 p.m. Pacific with the game's director Takumi Naramura, which will be streamed on the PAX2 Twitch channel.
The La Mulana games are exploration based platformers with heavy archaeological elements. The original game was one of the last major WiiWare releases when it launched in September 2012, while the sequel released in Japan on June 27.