Eiju Aonuma and the Nintendo Treehouse showed off the new mode and also confirmed the Color Dungeon will return.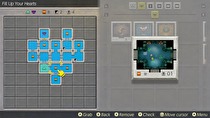 The Legend of Zelda: Link's Awakening on Nintendo Switch will be more than a straight remake of the Game Boy classic.
First off, the Color Dungeon from the Game Boy Color port is returning in the Switch version. Second, one of the big new additions is Chamber Dungeons, which are accessed through a building in Tal Tal Heights, replacing the Camera Hut.
As you complete dungeons in the main game, you unlock tile pieces that can be placed in the Chamber Dungeon to create your own Zelda dungeon. Dampe, originally from Ocarina of Time, is the host of the dungeon and will also give you challenges to complete. You are given a list of requirements that you have to satisfy to complete the challenge. A time trial mechanic is also a part of these dungeons and they potentially can be shared with friends.
Nintendo's Eiju Aonuma detailed the idea behind the Chamber Dungeon, saying it was a way to allow Zelda fans to make their own puzzles. He also emphasized how it is easy to use and place tiles while the tile placement can become a puzzle in and of itself. Each tile fits into various categories, including number of entrances, treasure chests, locked doors, stairs, and more.
Lastly, the adorable new Link amiibo adds Shadow Link to Chamber Dungeons. He chases your player through rooms and spews Rupees after being defeated, so he serves a purpose of adding difficulty but also a great reward. Additionally, all other Zelda amiibo will work in the game, though nothing further was detailed.
The Legend of Zelda: Link's Awakening is due out on the Nintendo Switch on September 20.